St. Louis Park - Remodeling Case Studies
Townhouse Kitchen Transformation
Project Name
Townhouse Kitchen Transformation
Project Summary
Our clients thought their kitchen felt dark and lacked visual flow with the rest of the main floor and the beautiful backyard gardens. We gave them their dream kitchen by opening a wall which allows the kitchen to "breathe," improves natural light, gives a view of the gardens, and turns the first floor into an entertainment space. Rearranging the layout created cooking stations that enable multiple cooks and increase countertop and storage space. They love their beautiful new kitchen rich with textures and materials that blend the old and the new.
Project Story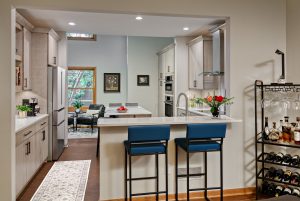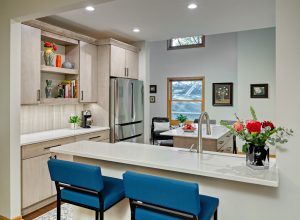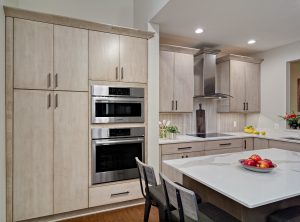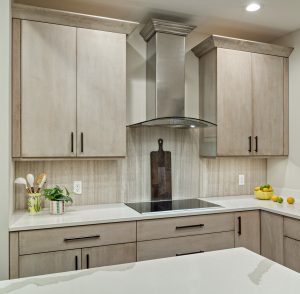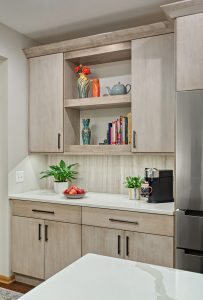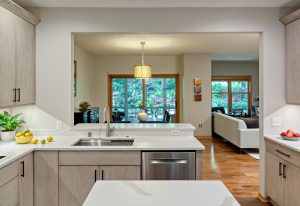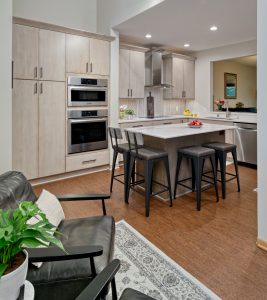 Project Category
Kitchen Remodeling
Job Category
Transitional Kitchen
Services Performed
Carpentry, Demolition, Designing, Electrical, Flooring, HVAC, Installation, Lighting, Painting, Plumbing, Sheet Rock
Why DreamMaker
After living in their townhome for a while, our clients were unhappy with their kitchen and wanted changes. The room felt dark and there was no visual flow with the rest of the main floor and no view of the beautiful backyard gardens. The couple wanted warmth and character; the existing simple white cabinetry didn't do it for them, but they didn't want a heavy traditional look either. They weren't sure if the breakfast table or hutch in the vaulted nook were really needed, but they liked the look of the Restoration Hardware hutch. They didn't know how to bring all their needs together, and contacted us because we are known as a full-service design/build company which was a fit with their needs. Our designer presented four potential remodeling plans for them to consider, complete with CAD 3D perspectives to help them visualize the possibilities.
                                                                                                   Here are some of the photos of the original kitchen taken at the first home visit, plus the last photo shows hidden-inside-the-wall challenges uncovered and solved during demolition (a wayward plumbing pipe and errant vent ducting):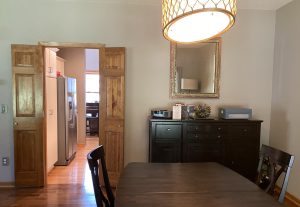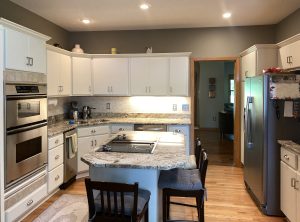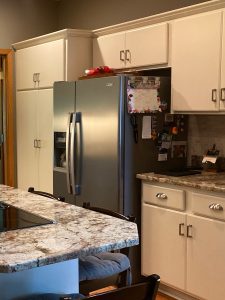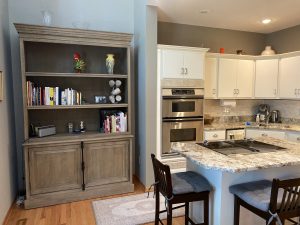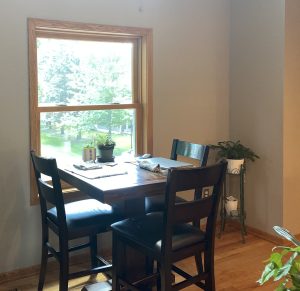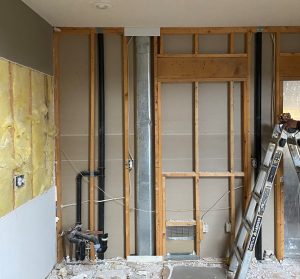 How does the remodel enhance the client's life
Our remodeling plan and installation transformed separate rooms into an open and integrated main floor, bringing in natural light and connection to the backyard gardens. It is now an ideal space for them to entertain. The old hutch now resides in another part of the house with a new function, and in its place the kitchen is expanded with the cabinet layout redesigned to create more functional work zones so the two could cook together comfortably, to preserve countertop space and improve storage space, and to provide a more convenient cookbook storage/beverage center in a new built-in hutch. With expanded counter seating for when the two are casually dining together or when entertaining, the breakfast table is no longer needed, and the space by the window is now a welcome spot to sit and relax with cookbooks and culinary magazines. New appliances enhance the cooking experience. A timeless mix of old and new come together in the finishes of the fixtures and materials, adding warmth and character in the vein of the old Restoration Hardware hutch. Textures abound in the mix of materials: character-stained wood, sleek steel and glass, large patterned quartz and vein cut marble, resilient cork, plush leather upholstery and soft rugs.
Customer Testimonials
Our clients' kitchen remodel gave them an amazing transformation with everything they both wanted in their new dream kitchen! They comment it is a wonderful whole new way of experiencing their home, and give kudos to our designer for her creative solutions.
City
Wayzata
State
MN
Who did the work
We designed and produced this kitchen remodel in house, with our designers, production manager, office professional, and carpenters working as a team along with subcontracted trade professionals.
Share this project: