St. Louis Park - Remodeling Case Studies
Master Suite: Blue Retreat
Project Name
Master Suite: Blue Retreat
Project Summary
Our clients' home was built in the 80s and their master suite had changed little since then. This is the third remodeling project we did for this couple, and we gave them a continuation of what we designed for their main level, mixing tradition with contemporary in a private place to relax and refresh.
Project Story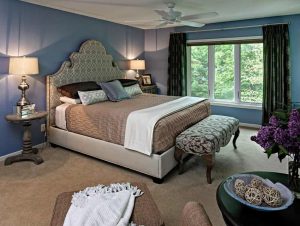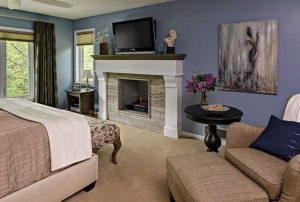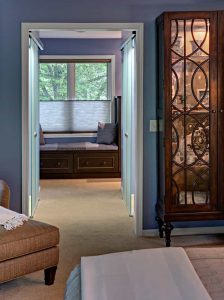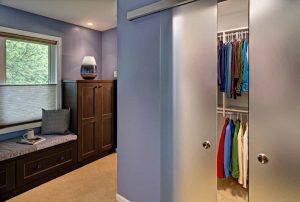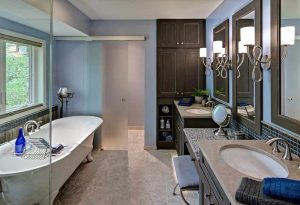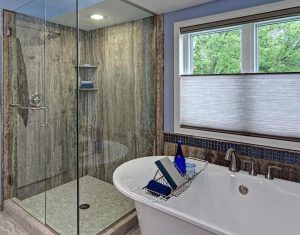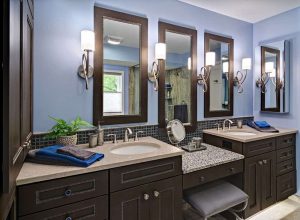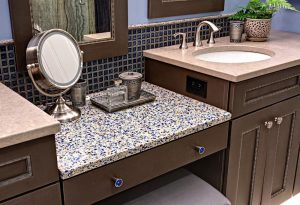 Photography by Mark Ehlen, Ehlen Creative
Project Category
Bathroom Remodeling
Job Category
Master Bath
Services Performed
Carpentry, Demolition, Designing, Doors, Electrical, Flooring, HVAC, Installation, Lighting, Painting, Plumbing, Sheet Rock
Why DreamMaker
Our clients were well aware and appreciative of our design-build services as we had previously worked with them on the remodel of main level of their home. They needed our team space planning, design, contracting, and installation expertise and knew we would listen to their wants and ideas and create the space they envisioned. The following "before" photos illustrate the existing space they asked us to transform.                                  .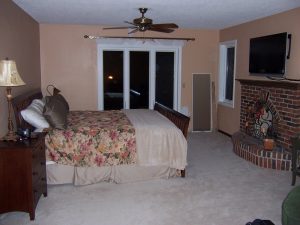 Bedroom before the remodel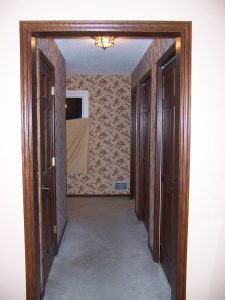 Closet before the remodel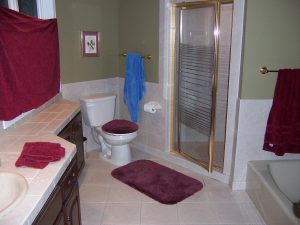 Bathroom before the remodel
How does the remodel enhance the client's life
We addressed every item on our clients' wish list and more to improve the function and aesthetics of the spaces. New bedroom furnishings and finishes update the room. The old wood-burning fireplace was replaced with a new even-heating, maintenance-saving Eco Smart fireplace insert that burns cleanly on bioethanol, and allows for the hearth to be eliminated.  We refaced the fireplace with a beautiful grey marble slab, white painted wood moldings and a grey antiqued wood mantle. We moved the closet walkway three feet, centered on the large closet window that now throws light deep into the bedroom, making both areas seem more bright, open and connected.  Storage cabinets and an inviting window seat were added.  New closet systems were added to fit our clients' current needs, and etched glass double sliding doors eliminate door swings into the walkway. The bathroom plan borrowed part of an adjacent guest room closet to create an private water closet with an etched glass sliding door. Instead of enclosed tub and shower nooks, her new free-standing tub now sits under the window next to his gray marble and glass shower resulting in an open, spacious feel. That leaves an entire wall free for two vanities flanking a make-up counter, with an adjacent linen closet and open shelves. We added insulation to the exterior wall and in-floor heat under the floor tiles. The new lighting system includes toe-kick lighting for soft night lighting. Aesthetically, we creatively mixed traditional and contemporary materials to create a serene space with interesting textures and touches of sparkle. Cabinetry is constructed in a heritage design with a hand-applied finish and is accented with decorative glass backsplash tiles, a recycled glass make-up counter, and both modern blue crystal and traditional brushed pewter button cabinet knobs. 
Customer Testimonials
We again exceeded our clients' expectations, and they are so pleased to have a master suite that is as functional and stylish as the rest of their home. This project won a MN NARI COTY award, 1st place Residential Bath Over $60K, and Honorable Mention for MN NKBA Large/Master Baths.
City
Bloomington
State
MN
Who did the work
We designed and produced this kitchen remodel in house, with our designers, production manager, office professional, and carpenters working as a team, along with subcontracted trade professionals.
Share this project: