St. Louis Park - Remodeling Case Studies
Historic Condo Kitchen
Project Name
Historic Condo Kitchen
Project Summary
Our clients live in a 4th floor corner unit of a historic 1914 brick warehouse with preserved industrial details such as brick walls, concrete columns, expansive windows, and exposed ductwork. They appreciate the connection to our city's past but wanted to personalize their space. They asked for our help with function – provide enough space to cook together while entertaining and increase storage – and aesthetics – add modern features and glam to the industrial style.
Project Story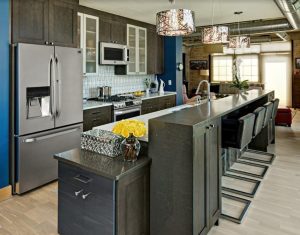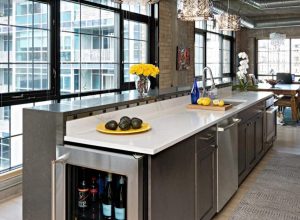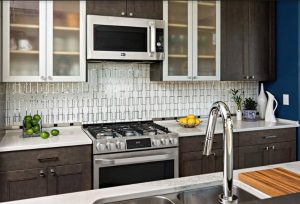 Photography by Mark Ehlen, Ehlen Creative
Project Category
Kitchen Remodeling
Job Category
Transitional Kitchen
Services Performed
Carpentry, Demolition, Designing, Doors, Electrical, Flooring, Installation, Lighting, Painting, Plumbing, Sheet Rock
Why DreamMaker
These clients chose us to work with them on their kitchen remodel after listening to the stories about the projects in our portfolio and taking that leap of faith that we could do for them what we did for the clients and homes they saw on those pages. They had ideas of what they wanted but needed help pulling it all together, and needed a full service design-build company to lead them through the entire process since they had never remodeled before. Here are images of the existing kitchen they wanted to transform into their dream kitchen.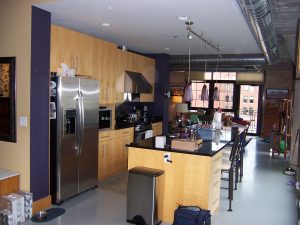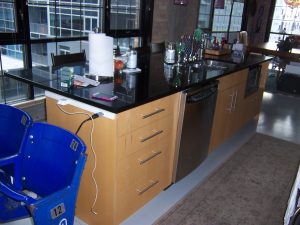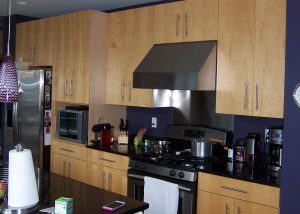 How does the remodel enhance the client's life
This historic downtown 1914 brick warehouse building underwent a true loft conversion in 2005, preserving industrial details such as brick walls, concrete columns, expansive floor to ceiling exterior windows, and exposed ductwork.  Our clients appreciated the connection to our city's past, but after living in their 4th floor corner unit for many years, were ready to incorporate some modern features and add color and glam. The couple enjoys entertaining and cooking together, although their kitchen layout was too tight for them to work side by side. They are wine aficionados and collect glass pieces of all kinds, but had little storage for either, and no way to organize mail or communication devices. Due to condo restrictions the kitchen was confined to its existing space within the open plan, but we reconfigured the layout to create a 42" clearance between the bank of wall cabinets and the island to allow for two cooks to easily pass by each other. We redesigned the island entirely, enlarging it to house a new wine refrigerator on one end and a mail drop/communications center on the other. A new steam oven and professional style gas range are included to facilitate gourmet entertainment cooking. End wall cabinets provide ample storage for glass pieces, and modern interior cabinet accessories throughout optimize all storage. We installed new oak hardwood strip flooring with a natural Live Pure finish over the original cold and hard concrete floors; its natural warmth compliments the original tan brick walls. We swapped out the existing builder basic cabinetry with new custom solid maple cabinets in a dark taupe stain, and augmented them with four metal doors with etched glass inserts. To reduce the visual mass of the 14-3/4' island, we carved it into three tiers and topped it with two contrasting quartz countertops, waterfalling the two bar-top ends to give it a more finished look. Blue wall paint and accessories designate the kitchen space. Glam personality is introduced with crystal accent knobs, marble and mirror backsplash mosaic tile, and crystal and laser cut metal light pendants over the island, all of which sparkle in the natural light from windows on three sides and a revamped system of recessed lights in the ceiling canopy and LED under-cabinet lights.
Customer Testimonials
This was the first remodeling experience for our clients and they are thrilled with the result. They appreciate how our plan and its execution preserved for them the building history that they didn't want covered up, but also gives them the function and style that they need and want.
City
Minneapolis
State
MN
Who did the work
We designed and produced this kitchen remodel in house, with our designers, production manager, office professional, and carpenters working as a team, along with subcontracted trade professionals.
Share this project: