---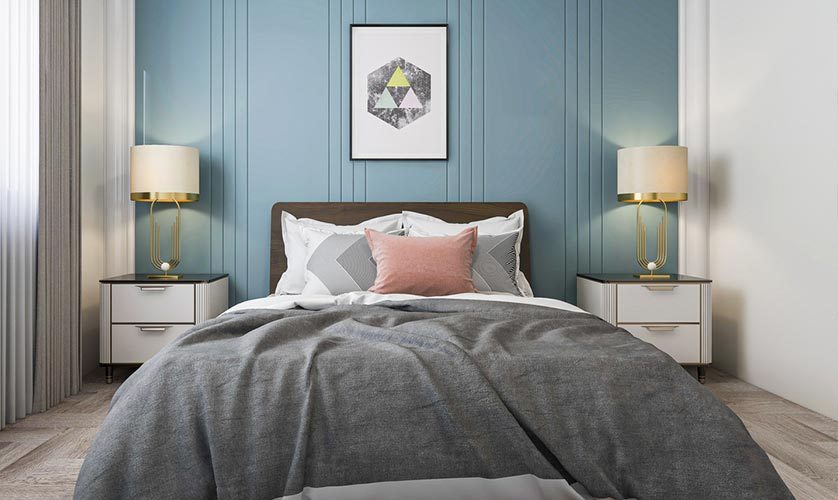 ---
Your bedroom is more than a place to doze off. Your personal sanctuary is where you can relax and recharge. Making it more cozy and inviting, after all, can affect your quality of sleep and your physical and mental well-being. Transform your bedroom into the coziest nook in your house with these tips from the top home remodeler in the local area, DreamMaker Bath & Kitchen of Schaumburg.
Opt for a Soothing Color Palette
Choose neutral colors such as whites, beiges and pale grays. These colors help you create a balanced, peaceful environment and provide a soothing backdrop for your furnishings. You can also add a few touches of bolder colors — in artwork, decorative details or accent walls — to create a warm and inviting ambiance.
Incorporate Your Personality Into Your Design
The most important part of any interior remodeling project is that the design should represent you. Start by adding artwork that truly speaks to you. Put up meaningful photos on your walls and incorporate items with sentimental value. Other ideas include using furniture and fixtures that reflect your preferred aesthetic, such as modern or rustic-themed bedroom sets.
Make Comfort and Practicality a Priority
No matter your budget, there are countless ways to make your bedroom a haven of comfort. Start small by rearranging your furniture to maximize space and air circulation. If you're short on natural light, consider incorporating more artificial lighting fixtures. Add a few simple touches like plush pillows and cozy blankets to make the space extra-inviting. You can also introduce a soft rug to make your bedroom feel like a cozy walk-in closet.
Minor Updates for Instant Coziness
Sometimes, you don't have to undertake large, expensive projects to make your bedroom more inviting. Small updates can make a big difference, helping your bedroom feel brighter and more inviting. These include replacing worn-out drapes or curtains with modern, blackout shades; adding wall decals, paintings and 3D wall art; or bringing in potted plants to add a pop of color.
Let's Start a Conversation!
Understanding your lifestyle, aesthetics, and comfort needs will help you make your bedroom cozy. If you're still searching for "home remodeling contractor near me", look no further. DreamMaker Bath & Kitchen of Schaumburg is within your reach. Ready to get started? Give us a call at (847) 973-5097, or fill out this contact form. We serve homeowners in Arlington Heights, Elk Grove, Palatine, Hoffman Estates, Bartlett, and the neighboring communities. We're excited to help bring your vision of a cozy bedroom to life.