---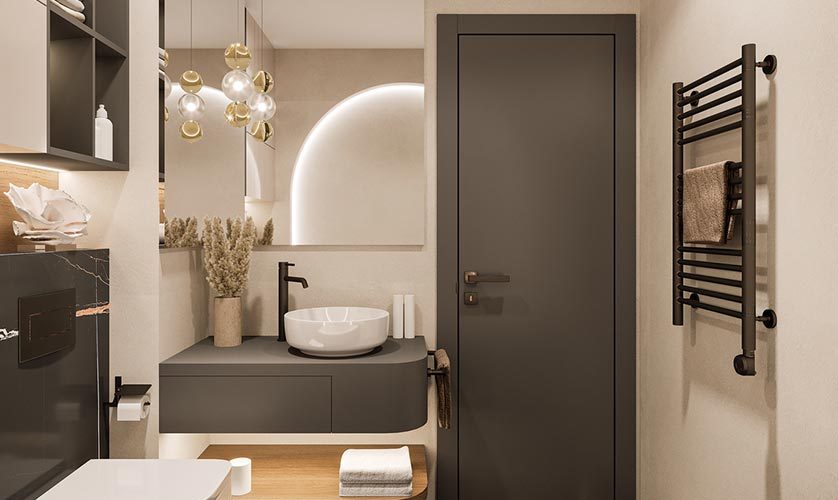 ---
Lighting is an integral part of any space, including your bathroom. In this article, we explore the different types of bathroom lighting and their purposes and share tips on how to design it with a professional bathroom contractor in Schaumburg, IL.
Task Lighting
Task lighting is essential for illuminating areas where daily activities are performed, such as applying makeup, shaving and brushing teeth. Place vanity lights around your bathroom mirror to reduce shadows on your face.
The shower is another critical location to install lighting. Consult a bathroom contractor to ensure your light fixtures are in a safe and optimal area.
Ambient Lighting
Ambient lighting is the general light source in a bathroom and can come from ceiling fixtures or cove lighting. When planning your bathroom lighting, work with a bathroom remodeler in Schaumburg, IL, to achieve a harmonious balance between task and ambient lighting, making the space well-lit and inviting.
Accent Lighting
Accent lighting adds style and flair to a bathroom. Wall sconces create a warm ambiance while illuminating artwork or architectural details. Recessed lighting can be used to showcase a beautiful bathtub or tilework. Collaborate with a bathroom contractor near me in Schaumburg, IL, to determine the best placement and style for your accent lighting.
Safety Considerations
Safety is vital for bathroom lighting, so follow electrical safety guidelines and have a contractor install all fixtures to ensure proper grounding and protection from water. Additionally, invest in waterproof fixtures for wet areas to minimize the risk of accidents.
Energy Efficiency
LED lighting is a popular choice for energy efficiency in the bathroom. These eco-friendly options save on energy costs and have a longer lifespan compared to traditional bulbs. Consult a bathroom remodeler to help you choose the best energy-efficient lighting options for your space.
Let's Start a Conversation!
The right lighting can make your bathroom feel like a spa, enhancing your daily routine and self-care rituals. Trust a professional bathroom contractor to help you navigate the myriad options and create the perfect lighting design for your needs.
Ready for that dream bathroom makeover? Choose DreamMaker Bath & Kitchen of Schaumburg! We abide by our DreamMaker Code of Values™ to guarantee excellent communication and top-notch craftsmanship during renovation projects. To start your home renovation with our team in Schaumburg, IL, contact us at (847) 973-5097 or through our online form! We work with homeowners in Arlington Heights, Elk Grove, Palatine, Hoffman Estates, Barrington, Bartlett and the surrounding areas.