---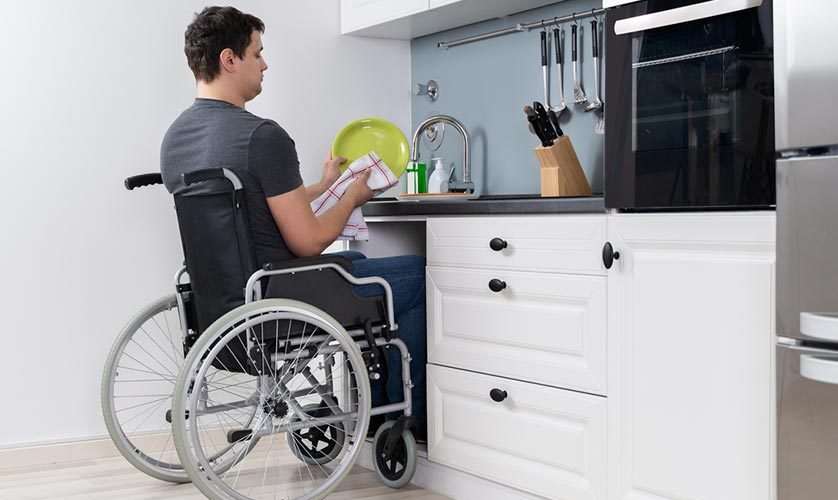 ---
If you're looking to have a stylish and accessible kitchen, it helps to check ADA guidelines to ensure your space meets standard accessibility requirements. In this blog post, we explore what an ADA-compliant kitchen looks like and how to design one for your home.
Key Features of an ADA-Compliant Kitchen
Designing an ADA-compliant kitchen requires incorporating specific features that promote safety, comfort and ease of use. Some essential elements of an ADA-compliant kitchen include:
Accessible Countertops
Creating a comfortable and functional space for everyone starts with accessible countertops. ADA guidelines recommend countertops at 28 to 34 inches above the floor, with a depth of 24 inches to allow for easy access from a seated position. Additionally, ensuring at least 30 inches of clear floor space in front of the countertop enables wheelchair users to navigate easily.
Accessible Appliances
Your appliances should be easy to reach and use for individuals of all abilities. Consider installing oven and cooktop controls at the front to avoid reaching over hot surfaces. Choose refrigerators with side-by-side doors or opt for separate under-counter refrigerators and freezers to make them easily accessible for everyone in the household.
Accessible Sinks
Similar to countertops, ADA-compliant sinks should have a height of 28 to 34 inches, with a shallow basin to make washing dishes more manageable. Provide clear floor space in front of the sink. Ideally, 30 inches will enable wheelchair users to approach and use the sink comfortably.
Accessible Storage
Tools, supplies and food items in an ADA-compliant kitchen should be easily reached by all users. Incorporate pull-out shelves, drawers and pantry systems to minimize bending and reaching. Lower cabinets and shelves provide additional storage options that are accessible to individuals of varying heights and abilities.
Designing an ADA-Compliant Kitchen
Accessible kitchen remodeling may seem challenging, but working with a professional kitchen remodeler will help you ensure all guidelines are met.
Working With a Professional Kitchen Remodeler
Hiring a professional kitchen remodeler familiar with ADA guidelines can make a significant difference in achieving a beautiful, accessible space. They can help you design elements and ensure compliance with all applicable regulations. To find a kitchen remodeler near you, search online, ask for recommendations or visit local showrooms.
Customizing Your Kitchen for Accessibility
With the help of a professional kitchen remodeler, you can customize your kitchen design to meet your specific accessibility needs. Personalize your space with unique touches, such as colorful backsplashes or custom cabinetry, while incorporating additional accessibility features like lowered light switches, grab bars or adjustable-height workstations.
Getting a Kitchen Quote for Your ADA-Compliant Remodel
Here's everything you need to know when getting estimates for an ADA-compliant kitchen remodel.
What to Expect During the Quote Process
When obtaining a kitchen quote for your project, provide accurate measurements and discuss your needs with your remodeler. They will assess your current space, review your desired features and provide an estimate based on the scope of work and materials required.
Factors Affecting the Cost of an Accessible Remodeling Project
The cost of your remodeling project depends on several factors, including the size of your kitchen, the complexity of the design, and the materials and fixtures you choose.
Let's Start a Conversation!
If you're considering an ADA-compliant kitchen, contact DreamMaker Bath & Kitchen of Schaumburg at (847) 973-5097 or through our contact page to discuss your needs and get started on designing your dream kitchen. We serve homeowners in Hoffman Estates, Barrington, Bartlett and the surrounding communities.