---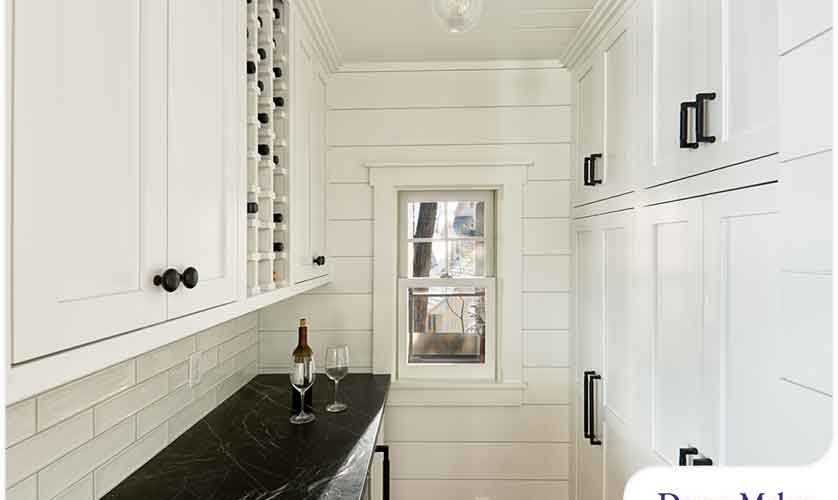 ---
The butler's pantry has become a must-have feature for many homeowners. Commonplace in many 19th-century high-class homes, it has since become a popular part of home remodeling plans among homeowners for stylish and aesthetic reasons. Top local kitchen remodeler DreamMaker Bath & Kitchen of Schaumburg explains everything you need to know about the butler's pantry.
More About Butler's Pantries
A butler's pantry is a small area located between the kitchen and dining room. It is called such because during the 19th to the early 20th century, butlers used them as staging areas for prepared meals before bringing them to the table during banquets or feasts. Nowadays, butlers' pantries are still used for that purpose, albeit with more storage solutions and more space for entertaining guests.
Common Features of a Butler's Pantry
With an experienced kitchen contractor assisting you with your luxury kitchen remodel project, you can create a dream butler's pantry that exactly suits your needs. Ideally, this part between the kitchen and dining area should provide ample storage for your kitchen essentials, like pots, pans, dishes, silverware, and spices. It should also have enough counter space that can be used as a food prep and staging station.
Some designs may include certain appliances, such as a dishwasher and a refrigerator drawer for food storage. Custom cabinets and shelves allow you to store seldom-used china or other kitchenware, while extra seating near the countertop provides for extra space for entertaining guests during gatherings.
Reasons to Add a Butler's Pantry
The main benefit of adding a butler's pantry to your luxury kitchen remodel is increased storage. Additional space to store non-kitchen items like linens and other home supplies can be invaluable for busy households.
Having one for your home makes entertaining guests or hosting gatherings easy. You have plenty of storage and lots of preparation and dishwashing areas near the kitchen to serve food and clean up conveniently.
Let's Start a Conversation!
Incorporating a butler's pantry that expands your home's utility becomes easier and less stressful when you work with the trusted "contractor near me". For homeowners in the Hoffman Estates, Barrington, Elk Grove and Palatine areas, that will be DreamMaker Bath & Kitchen of Schaumburg. Get started by calling (847) 973-5097 or filling out this contact form to schedule a conversation.