---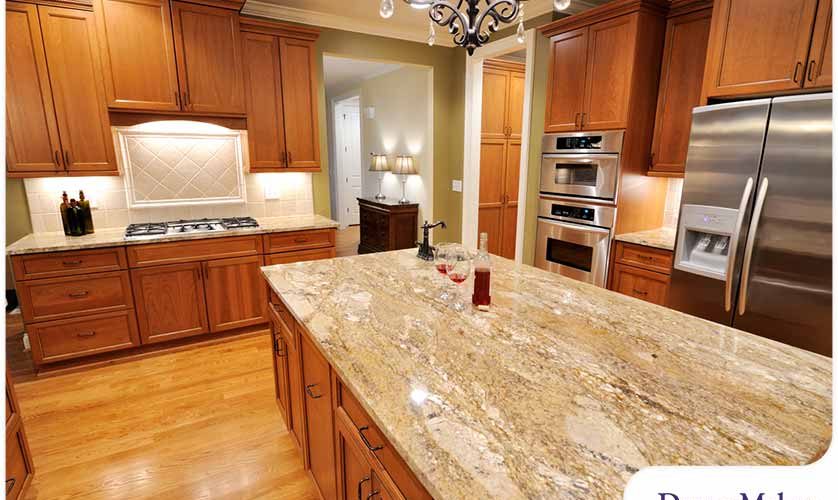 ---
Transitional kitchens use a combination of traditional and modern styles. If you want a unique and functional kitchen for your home, this kitchen design can give you a sleek yet homey look, exceptional functionality, and plenty of storage.
DreamMaker Bath & Kitchen of Schaumburg, a top-notch kitchen remodel company in the area, lists some design ideas to help you create a transitional kitchen.
Clutter Free
Transitional kitchens are naturally clutter-free. You won't find pots, pans, and kitchenware hanging just anywhere. Instead, they're stored in well-designed and spacious cabinets, which are an integral part of the kitchen design. These centerpiece cabinets often have neutral finishes, clean lines, and solid colors to achieve a simple yet stunning look.
Simple Color Scheme
In a transitional kitchen, solid colors offer a modern look while providing the simplicity of the traditional style. Gray and beige are typical color choices for transitional kitchens with blue as a popular accent color. If you think your kitchen lacks the balance between traditional and modern styles, opt for wood flooring or cabinets to add a warm, homey aesthetic.
Spacious Storage
Cabinets are prominent in transitional kitchens. This ensures you have enough space to keep your kitchenware and appliances away from view if not in use. Furthermore, you can use painted wood or wood grain cabinets for a classic appeal that looks good with any modern element, such as solid colors.
Low-Maintenance Countertops
Quartz and quartzite countertops are some of the most low-maintenance options that you can use in a transitional kitchen. They typically have a burnished look and can be cut into thick profiles. They're also antibacterial, so you won't have to worry about germs and mold growth. Furthermore, if you plan to add an island, consider using a waterfall countertop to create a stunning centerpiece.
Appliances
You can easily hide away your appliances and create a seamless look with paneling. Your kitchen renovation contractor may have great ideas for this. If you don't want to hide your appliances, use steel appliances to suit your transitional kitchen design.
Lighting
If you want an open-floor transitional kitchen, you can use lighting fixtures to distinguish your cooking and dining areas while ensuring there is enough light to illuminate the spaces. For instance, oversized pendant lighting above your dining table is a great way to illuminate the spot and distinguish it from the cooking area.
Wood Flooring
Wood flooring is a cornerstone of the transitional kitchen style. You can add more warmth to your transitional kitchen with deep-hued wood flooring. You can also use rustic or reclaimed boards as alternatives or opt for laminate flooring if you need a more affordable option. Nevertheless, be sure to ask your home remodel contractor for suggestions.
Let's Start a Conversation!
A professional contractor makes kitchen remodeling projects efficient and seamless. DreamMaker Bath & Kitchen of Schaumburg is a trusted remodeling company that has accomplished numerous projects in the area. Call us at (847) 973-5097 or fill out this contact form to get an estimate. We proudly serve clients in Arlington Heights, Elk Grove, Palatine, Hoffman Estates, Bartlett, and Barrington.