---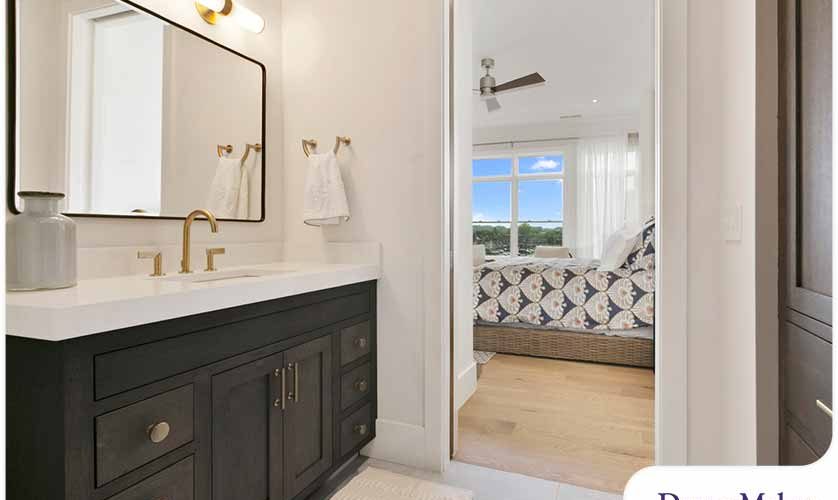 ---
Jack and Jill bathrooms offer plenty of benefits to homeowners. They are spacious and have a simple design that fits many existing home layouts. If you're a large or multigenerational household, a Jack and Jill bathroom might suit your family.
Want to know more about Jack and Jill bathrooms? Top bathroom contractor DreamMaker Bath & Kitchen of Schaumburg talks about the basics of this type of bathroom.
What Makes Jack and Jill Bathrooms Special?
If you want a unique bathroom with personality, Jack and Jill bathrooms are an excellent choice. They are situated between two rooms and give each room a door that opens into it. From the inside, a Jack and Jill bathroom can be locked from either entrance. Both must be locked during use and unlocked afterward to let the occupants of each room access the bathroom.
Jack and Jill bathrooms have different layouts to choose from. You can go with a one- or two-sink configuration. Another design separates the toilet and shower from the sink using a wall. This layout helps preserve the privacy of the people using the bathroom at the same time.
What Are the Benefits and Disadvantages of a Jack and Jill Bathroom?
There are pros and cons to having a Jack and Jill bathroom. Keep reading to learn more about them.
Benefits
A well-designed Jack and Jill bathroom can save space. It gives two rooms access to the bathroom, eliminating the need to build another bathroom and helping you save space. Furthermore, some homeowners build Jack and Jill bathrooms when remodeling bedrooms that need a bathroom or want to cater to families with more than three children or living with relatives. The larger bathroom makes it easy to prepare for work and school.
Disadvantages
The shared nature of Jack and Jill bathrooms will cause some privacy issues. You can walk into someone using the bathroom if both doors aren't locked from the inside during use. That said, everyone needs to develop a habit of locking the doors when in use and unlocking them afterward. Your professional bathroom remodeler may also have more specific recommendations to improve privacy.
What Do I Need to Design a Jack and Jill Bathroom?
Jack and Jill bathrooms need a few crucial elements to work as it is meant to. You need to make sure the space is well-lit, use space-saving doors, and ensure adequate storage space to accommodate the stuff of the people who will use it.
For instance, you'll need a three-way light switch that can be turned on when someone enters from any of the two doors. You can also save more space by using sliding doors. Swinging doors take up more space when they open, so a pair of sliding ones would be better.
A Jack and Jill bathroom needs to accommodate the needs of multiple users, so it requires more towel racks and hooks. You'll also need more cabinets for clean towels, accessories, and toiletries.
Let's Start a Conversation!
Expert builders can build the perfect Jack and Jill bathroom suitable for your needs. You can trust DreamMaker Bath & Kitchen of Schaumburg, a trusted bathroom contractor near me, to carry out your project to a high standard. To schedule a consultation, call us at (847) 973-5097 or fill out this contact form. We serve clients in Elk Grove, Arlington, Palatine, Hoffman Estates, Barrington, and Bartlett.