---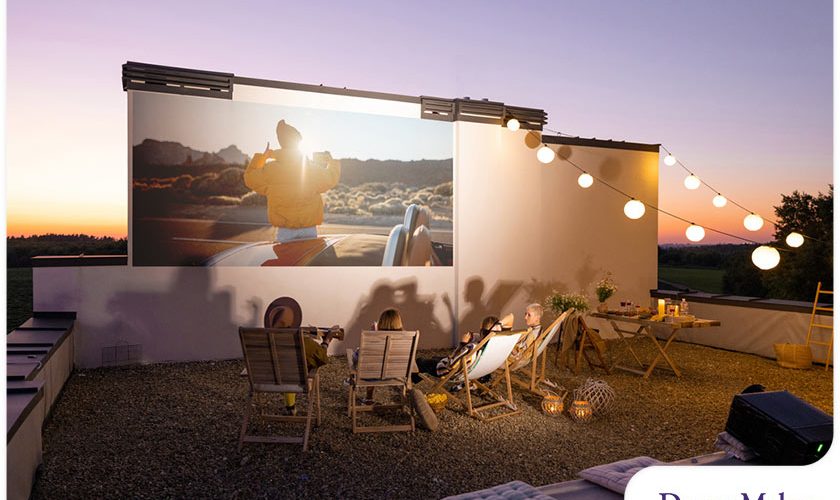 ---
With the weather starting to warm up, you could be thinking about summer activities outdoors. Your backyard has a lot to offer in terms of entertaining friends and spending quality time with family, including games and cookouts.
But what about movie nights? Sure, you might already be satisfied with your indoor setup, but it could be fun to have a well-designed outdoor theater in your backyard. There, you can stream your favorite flicks or watch a live sports event while enjoying fresh air and nature. All you need are a few items to create that space. Your trusted home remodel contractor DreamMaker Bath & Kitchen of Schaumburg has a guide to help you design it.
Basics of an Outdoor Theater
To start building your outdoor theater, you will need these items:
Projector – A projector is a must-have for any outdoor theater setup. It should be at least 2,000 lumens to ensure clear and crisp video quality. When looking for projectors, look for one that has built-in MHL functionality. This will minimize the need to use multiple wires.
Screen – For screens, you have three options: a sheet, the side of your home or a white projector screen. A white sheet or blanket can work, but it is prone to swaying with every breeze. The side of your home may not be smooth enough to project the image. This will make your video skewed and hard to watch. The best option is a white screen that can be easily installed. There are screens that you can fill up with air and then deflate when the movie night is done, and roll-away screens that are of high quality. Whatever suits your budget and wants, there's a screen for you.
Audio – When looking for a projector, you may come across one that has a built-in speaker. That may not be enough sound, especially if you want a complete audio experience. Instead, consider using portable speakers and amplifiers to achieve that sound quality you are looking for.
Video Source – The most important thing to complete your movie night is the video source. Make sure that your wireless router's signal is strong enough that it can reach the projector outside. A variety of video sources are available, from Blu-ray disc players or laptops to video streaming platforms like Netflix, Hulu, Disney+ or Amazon Prime Video.
Let's Start a Conversation!
DreamMaker Bath & Kitchen of Schaumberg is your go-to for stress-free interior remodeling services. Count on our team to provide personalized solutions and a streamlined process to help you enjoy your living spaces even more, whether indoors or outdoors. Call us now at (847) 973-5097. You may also fill out our contact form to start a conversation with us about your next home remodeling project. Our service areas include Arlington Heights, Elk Grove and Palatine, as well as Hoffman Estates, Barrington and Bartlett.