---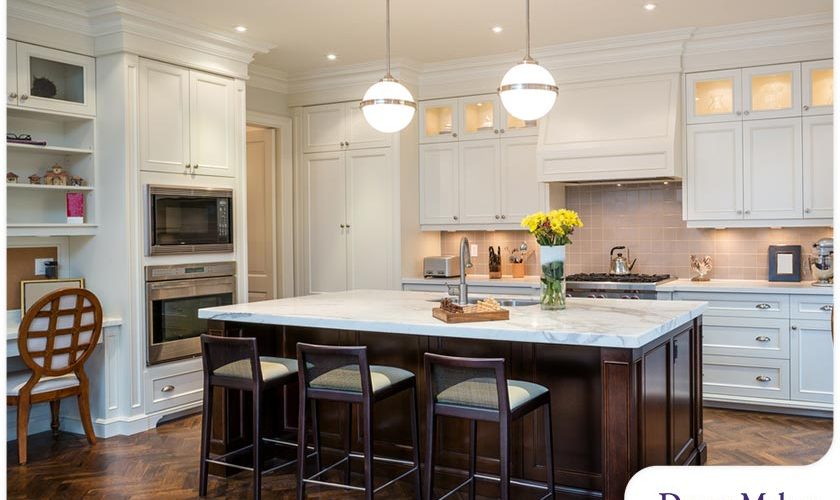 ---
The kitchen island is one of the busiest and most multifunctional areas in a home. It is used for food prep, cooking and family time. It's important to consider how your design for your kitchen island contributes to its aesthetic and functionality. That said, make sure you don't overlook kitchen island lighting.
In this post, kitchen contractor DreamMaker Bath & Kitchen of Schaumburg discusses how you can effectively light your kitchen island.
Consider the Size of the Space
Before deciding on the type of lighting for your kitchen island, it's best to consult your kitchen remodeler. The style and type of lighting may be influenced by the surface area of your kitchen island as well as the overall size of your kitchen. Furthermore, the size and scale of the lights you choose are determined by the amount of ceiling space available. It is recommended that lights be centered approximately 30 to 36 inches above the island countertop.
Types of Kitchen Island Lighting
There are several types of lighting that you can install over your kitchen island. Pendant lights and recessed lights are two of the most popular choices. Pendant lights positioned over the island can be the kitchen's jewelry – an essential component that will assist you with your daily activities and set the mood. These lights are suspended from the ceiling by a chain, wire or pole and are ideal for illuminating any task. The design of these fixtures contributes to the overall appeal of a kitchen. However, when selecting pendants for your kitchen island, make sure that the lights won't flood the surface or overpower the aesthetic of your kitchen.
Recessed lights are preferred by some homeowners for their cleaner appearance. They are perfect for homes with low ceilings. Most modern versions of recessed lights now include built-in LED lighting, which is more energy-efficient and lasts longer than standard light bulbs. Take note of how focused the light is as well. Some recessed lights function as spotlights, which are ideal for task lighting over your island. Others generate a less-focused floodlight, which is useful for general room lighting. Choose the spotlight option if you intend to install your recessed lights right over the island.
Let's Start a Conversation!
Thinking about remodeling your kitchen? Don't spend time searching "contractor near me" online. DreamMaker Bath & Kitchen of Schaumburg has you covered! Our team of experts will work with you from the design to completion to create a kitchen that is customized to meet your unique needs. Call us at (847) 973-5097 or you can fill out our contact form to book an appointment.