---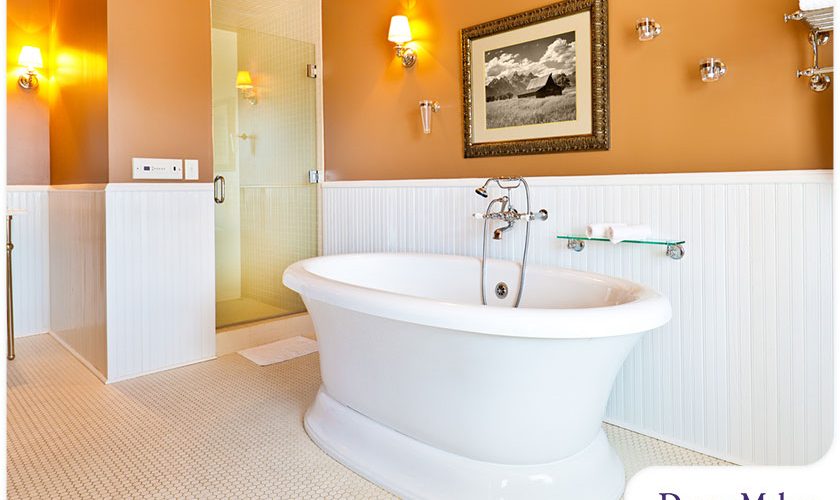 ---
When it comes to choosing paint colors for your home, there are a few things to keep in mind, especially for your bathroom since it is usually smaller than other rooms in your home. Choosing the best paint color can improve the mood of your bathroom and make the space appear bigger.
Whether you're doing a major bathroom renovation or just want to freshen up the space, DreamMaker Bath & Kitchen of Schaumburg has some paint color ideas to help you get started.
Top Color Picks
White
With white, it's difficult to go wrong. Opt for a bright white to counterbalance the dimming effects of artificial light, and incorporate some texture into the design with wood or brass accents for a timeless appearance. Just make sure to keep the wall and/or ceiling trim the same color for a more finished look.
Powder Blue
Powder blue is a popular color when it comes to bathroom paint colors. While this color has been a favorite choice for decades, you can update its appeal and bring it into the twenty-first century by selecting a hue that has a tinge of gray to it.
Warm Gray
It's nearly impossible to go wrong with a gray color scheme. This neutral shade can elevate and modernize any space and, as an added benefit, it goes well with a wide range of hues, making it easier to mix with the existing features in your bathroom. Ask your bathroom remodel contractor for a specific gray shade that will best suit your bathroom size and style.
Brown
Brown is the color to go with if you want to create a relaxing bathroom. Brown in any shade produces a soothing, spa-like ambiance. When coupled with metallic gold accents, a dark chocolate brown produces a more dramatic appeal and looks sophisticated. A medium tone is more relaxing and pairs well with lighter-toned elements. A lighter brown can serve as a neutral backdrop for accent colors such as cream, beige or soft blue.
Sage
Your bathroom remodel contractor may advise you to try other colors besides the classics. This blue-green-gray combination is a great way to add a splash of color to your room. If you're worried about going overboard, go with a lighter shade of sage for a beautiful, understated effect.
Navy
Bathrooms with natural light and white accents benefit the most from a deep color such as navy. If you have ample natural light coming into your bathroom, go ahead and pick this color. And while you're at it, add some brass cabinet knobs to add elegance to the look of the room.
Let's Start a Conversation!
Once you decide on a paint color, let DreamMaker Bath & Kitchen of Schaumburg help you with transforming your bathroom! Our team is experienced and able to make the process as seamless as possible. Call us at (847) 973-5097 or you can also fill out our contact form to schedule an appointment.