---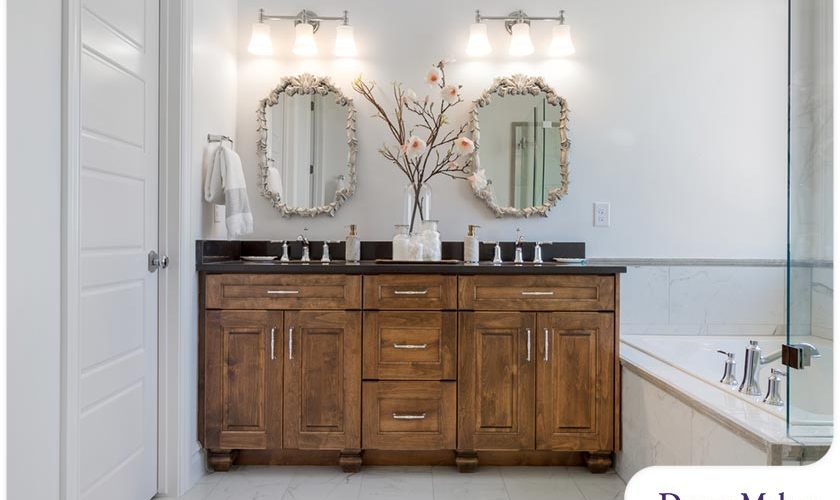 ---
Excellent lighting is an important part of every space in your home, especially your bathroom. After all, your bathroom is a place where you should be able to relax after a long day. That said, your bathroom lighting should properly illuminate the room and help create the atmosphere you want. Picking the wrong lighting will make it difficult for you to carry out tasks like grooming. In this post, DreamMaker Bath & Kitchen of Schaumburg — a top kitchen and bathroom contractor in the area — shares some do's and don'ts of bathroom lighting.
Do Start From the Top & Work Your Way Down
First, you'll need to decide between recessed overhead lighting or a flush-mount ceiling light for general bathroom lighting. Brighten up your vanity area with quality bathroom task lighting, which should be installed above and around the mirror. You can also opt for undercabinet strip lighting for your bathroom vanity or consider mirrors with built-in lights. Your bathroom remodeler can help you decide on how to light up your tub and shower area.
Don't Overlook Color Temperature & CRI
When you're purchasing LED bulbs or fixtures for your bathroom, research the wattage and brightness of the lights. The color's temperature is measured in Kelvin (K), and it's used to determine if a bulb emits warm or cool light. As a rule of thumb, the lower the color temperature of the bulb, the warmer the light. And the higher the color temperature of the product, the cooler the light will appear.
Meanwhile, the Color Rendering Index (CRI) measures how accurate a light source is when showing the true color of an object. For example, a room with outdated fluorescent lighting might render the colors in the room inaccurately or make the colors look dull. That said, you should find the right lighting for your bathroom and ensure balance among the different types of lighting that you have. Choose a contractor that's familiar with these concepts so that they can find the best solution for your needs.
Let's Start a Conversation!
DreamMaker Bath & Kitchen of Schaumburg offers a wide range of professional remodeling services, including bathroom renovation. We're at the top of the list when you look for a "bathroom contractor near me"! Call us at (847) 973-5097 or contact us online today. We serve homeowners in Bartlett, Schaumburg, Hoffman Estates, Palatine, Elk Grove and the surrounding communities.