---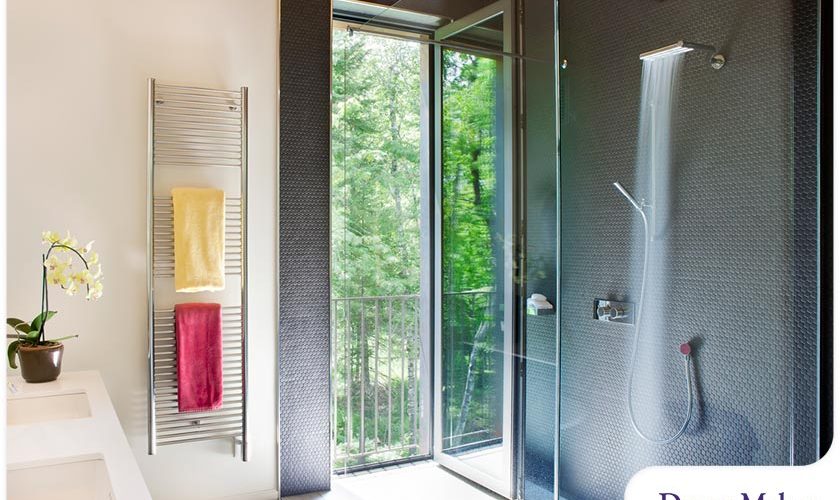 ---
When it comes to a bathroom remodeling project, it is very easy to go overboard and blow your budget. As a go-to bathroom remodeler, we've seen it happen many times! This is why it is important to know early on whether your project is going to be mid-range or high-end. It also helps to have a list of items that are your spending priorities, and a separate list of items that you can save on (without sacrificing quality).
Splurge
Smart storage solutions. If you are like most homeowners, you probably don't have a lot of space to work with. In fact, the average bathroom size in the U.S. is only 36-40 square feet. This gives you just about enough room to fit a shower, a bathtub, a sink and a toilet. To work around space limitations, it pays to spend on multi-functional storage solutions such as vanities with integrated electrical outlets, multi-tiered drawers and decorative mirrors that double as pull-out racks.
A great vanity. An attractive yet practical vanity is one way to add value to your bathroom while giving it a little extra oomph and personality. As mentioned above, you will want one that can serve other purposes as well.
Green features. Sure, purchasing sustainable fixtures like a low-flow showerhead and water-saving toilet will cost more than standard fixtures, but it could help you save a lot of money in the long run. That's why your bathroom remodeler may recommend them. Your wallet (and the environment) is sure to thank you later on.
Save
Plumbing. Moving plumbing lines around can be pretty expensive so we strongly recommend that you work around your existing layout. When planning for your remodel, try to match the new design with the plumbing lines.
Flooring. If you want to save on bathroom flooring, it doesn't mean that you can't tear out your old, grimy floor tiles. While you can go with expensive tile if your budget allows, we recommend going with economical options like porcelain and ceramic. They are very practical and you can have a lot of fun with the design.
Let's Start a Conversation!
Instead of searching online for a "bathroom remodeler near me", choose DreamMaker Bath & Kitchen of Schaumburg if you want a contractor with the ability to exceed your expectations. To schedule an appointment, please give us a call at (847) 416-8451. Alternatively, you may fill out our contact form to request a quote. We serve homeowners in Arlington Heights, Elk Grove, Palatine, Hoffman Estates, Barrington, Bartlett and beyond.