---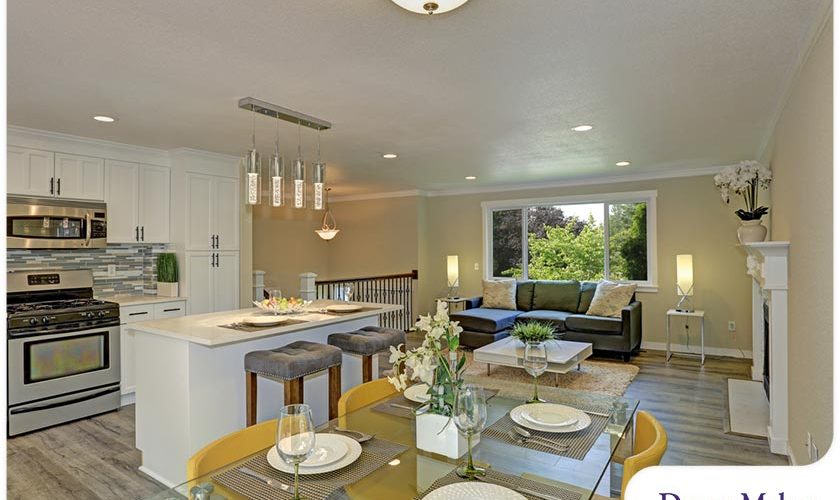 ---
Open floor plans are among the all-time most popular architectural trends, going strong for the past 30 years and counting. If you are considering converting your existing home to an open floor plan or building a home from the ground up, read on as local home remodeler DreamMaker Bath & Kitchen of Schaumburg explains the pros and cons.

Qualities of an Open Floor Plan

The objective of an open floor plan is to remove the walls that separate the common rooms in a house. Instead, these areas are separated by visual cues such as a change in flooring or color, by elevation such as a short set of stairs, or by furniture placement. Other rooms in the house remain separated for privacy.

In a typical open floor plan, the upper parts of the structure are supported by heavy beams. In comparison, in a more traditional design, load-bearing walls provide structural support. Some building contractors can incorporate heavy-duty beams into a traditional design, which may allow for conversion to an open plan while keeping most of the house's structure.

Pros & Cons

Before you go online and search for a "remodeling contractor near me," you have to weigh the pros and cons of an open floor plan.

Ease of movement — An open floor plan enables easier movement and better communication between rooms. Preparing dinner and cleaning up after is easier and is less likely to result in people bumping into each other because there are no barriers separating the dining room from the kitchen.
Configurable — Open floor plans are also easy to configure. If you need a wider path for a wheelchair or if you need a few more feet of space in one room, all you need to do is move around furniture.
Lots of natural light — An open floor plan will let you get the most out of the natural light coming from your windows and doors.
Higher heating and cooling requirements — If your home is heated and cooled by whole-house systems, you may need a larger HVAC system to replace the old one. This is also the case if rooms are individually cooled by mini-split systems — retaining the smaller systems may result in higher utility bills.
Noise — In an open floor plan, noises can be distracting because there is no separation.
Let's Start a Conversation!
DreamMaker Bath & Kitchen of Schaumburg is the leading home renovator serving Palatine, Hoffman Estates and the surrounding communities. To get started with a no-obligation consultation, call us at (847) 416-8451 or contact us online.