---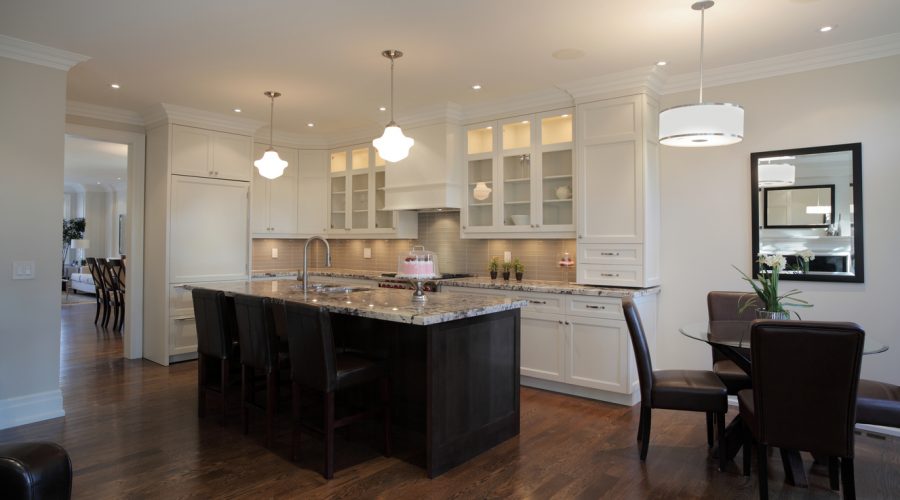 ---
If your kitchen is feeling outdated and cramped, this can affect the experience of family members and guests. One effective method to alleviate the common dilemmas of a small kitchen is to raise the ceiling. In fact, architect Kevin Lichten believes that the ceiling can be the most dramatic and mood-altering part of any room! In this article, home remodeling contractors explain how high ceilings can transform the look and feel of kitchens.
A Brief History
In the early and mid-20th century, American builders embraced flat ceilings. Famous architect Frank Lloyd Wright would orchestrate the impression of a flat ceiling by designing it lower, near the room's entrance. American suburbs are crowded with high ranches and split-level houses with ceilings that are flat. Some homeowners are deciding to change this standard, removing a low, flat ceiling and stretching it all the way up to the roof. While it is a large renovation project, it can completely change the architectural appearance of a home.
Benefits of High Ceilings
Most of the appeal of high ceilings is related to a fondness for open space, but research suggests that there is more to it than that. There is evidence that ties high ceilings to a psychological sense of freedom, promoting visual exploration and inducing positive feelings. In addition, people are more likely to deem a room beautiful and welcoming if it has a high ceiling compared with a low one, making raising a ceiling a popular home remodeling project.
Since the kitchen can often be a stressful place, a tall ceiling can bring numerous benefits. Here are a few:
It creates the illusion of added square footage. An airy, spacious and well-lit kitchen is desirable. If a kitchen is cramped, raising the ceiling will open up the space, making it appear larger than it actually is. This home improvement is great for homeowners who do not want to tear down interior walls in order to expand the room.
It lets in plenty of natural light. A kitchen with a tall ceiling tends to feature added windows, allowing you to maximize daylighting techniques and bring lots of natural light into your home. It also allows fresh, cool air to circulate in the room, helping save on energy costs.
It increases home value. Homes with large, well-ventilated kitchens make good real estate assets. If your kitchen features a high ceiling, you may have an easy time selling it in the future.
Let's Start a Conversation!
DreamMaker Bath & Kitchen of Schaumburg is a premier source of interior remodeling solutions. Our top-rated professionals are committed to providing the comfort and efficiency you need through industry-leading products and outstanding customer service. Call us today at (847) 973-5097 or fill out our contact form to set up an appointment. Our service areas also include Arlington Heights, Elk Grove, Palatine and Hoffman Estates.