---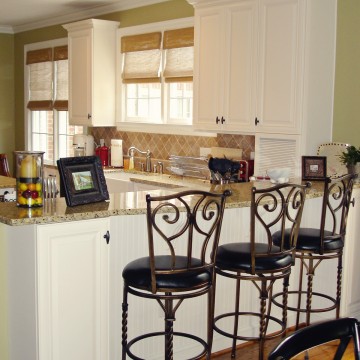 ---
Many homeowners immediately think of adding a kitchen island when planning a kitchen renovation project. However, not all kitchens are designed to accommodate a kitchen island. The good news is you still have another similar option: the breakfast bar.
In this post, DreamMaker Bath & Kitchen of Orland Park makes the case for a breakfast bar and why it just might be what your kitchen needs.
More (Counter) Space
The last thing that a cramped kitchen needs is a feature that is more for show than it is functional. If your kitchen leaves a lot to be desired floor-space-wise, a breakfast bar is the perfect addition. Since it's usually attached to an existing wall or countertop, a breakfast bar offers more counter space (read: working space) without taking up precious floor space. You can also utilize the cabinets and cupboards under your breakfast bar for storage.
You're also in for a treat since breakfast bars offer the perfect informal space for you and your family to grab a quick bite to eat in the morning (or at any time of the day). The quick cleanup is also a nice bonus.
A Functional Divider
If you'd like to set a clear boundary between your kitchen's working area and the dining area, then a breakfast bar is the way to go. The best part is that a breakfast bar, if designed and installed properly, isn't an eyesore. In fact, breakfast bars offer the perfect blend of form and function.
We Build Beautiful Kitchens That Suit Your Lifestyle
As one of the leading kitchen remodelers in the area, DreamMaker Bath & Kitchen of Orland Park adheres to high standards when it comes to improving homes. We make sure that all of our clients are satisfied with the work we've done. If you have a grand vision for your home that you'd like to turn into a reality, we're the company to trust. Call us today at (708) 320-3417 and be one step closer to realizing your dream home.