---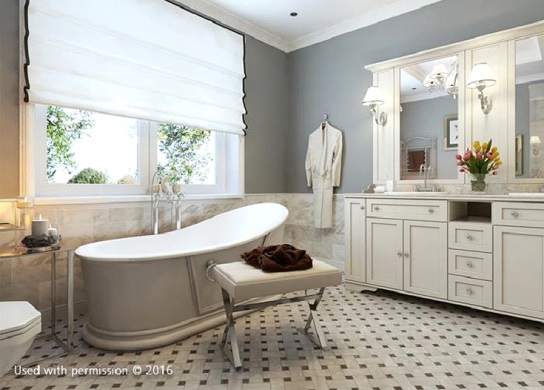 ---
Bathrooms certainly get frequent use and, over time, flooring can start to show significant wear and tear. Replacing old flooring can dramatically improve your space and make an old bathroom feel new again.
Which flooring material works best in the bathroom? Use this guide to learn about your options before you redo your bathroom.
Porcelain & Ceramic Tile
Porcelain and ceramic tile are popular options for bathroom flooring because they're durable and come in many different styles. Each material is different, and learning more about their strengths and weaknesses can help you choose the right one for your space.
Porcelain tile. Dense, less porous and harder than ceramic, porcelain is an ultra-durable material that is stain-resistant. Porcelain tile comes in multiple looks including natural stone styles like marble and granite. Porcelain tile also works well with a radiant in-floor heating system.
Ceramic tile. More cost-effective than porcelain tile, ceramic tile can be a smart choice if you're on a tight budget. Slightly less durable than porcelain, ceramic tends to absorb more water and chips are often more visible. It's still highly functional in most bathrooms.
Hardwood & Engineered Wood
Tile is the most common choice when choosing materials to redo a bathroom floor, but there are other options available to you. Hardwood and engineered wood are also popular.
Hardwood. Although it is typically rugged and easy to care for, moisture and humidity can pose problems in bathrooms with porous hardwood. Over time, damp hardwood can lead to mold growth and damaged, buckling floors. Natural hardwood should be reserved for low-use powder rooms and guest spaces. Master bedrooms where adults can be careful about proper ventilation and keeping floors dry may also utilize natural hardwood.
Engineered wood. Engineered wood is more cost-effective and less porous than natural hardwood. It's a better option for high-use bathrooms if you like the look of wood, but don't want to worry as much about water damage.
Resilient Flooring
For many homeowners, resilient flooring combines the best of both worlds. This flooring category includes vinyl, cork, rubber and composition tile. The benefit of these materials is that they're water-resistant, and many resilient flooring products now offer a very realistic tile or wood look. They are also warmer underfoot, making for a better living experience during the cold winter months.
Let DreamMaker Help You Choose
Choosing the right flooring material when you redo a bathroom can be confusing. You may know your style, but you're not an expert. The professionals at DreamMaker Bath & Kitchen of Orland Park can work with you to design a bathroom that's functional, stylish and within your budget.
We'll be with you from the first step to the last, ensuring you get the dream bathroom you desire.
Call (708) 429-6670 or submit our online form to start a conversation! Our experts will help you pick and install the right flooring for your master bathroom, guest space or powder room. We can also help with projects like shower wall installation and complete bathroom remodels.