---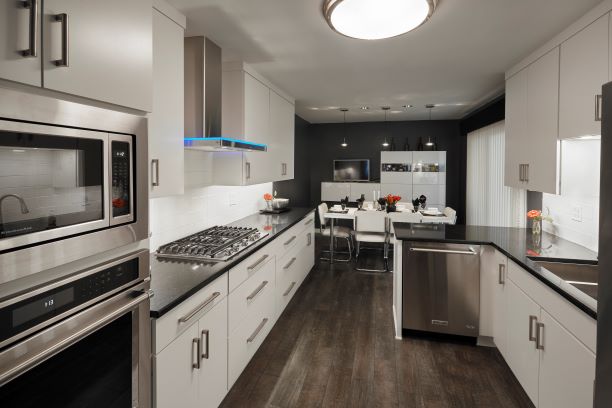 ---
Kitchens are one of the busiest rooms in any household, which is why most homeowners assume a bigger kitchen is better. However, home remodeling contractors know this isn't always the case. Galley kitchens — which feature a long, narrow layout — are a lot more popular than you think. Read on to find out why homeowners and contractors alike love galley kitchens.

What Are the Benefits?

Optimizes kitchen workflow – Efficient workflow is crucial in a kitchen. When you're in a hurry, every step counts. Since the sink, the refrigerator and the stove are all clustered near each other in a galley kitchen, you don't have to make unnecessary movements and are able to prep ingredients faster.
Saves space – The great thing about galley kitchens is that they optimize workflow without taking up too much space, making them a great choice for smaller properties.
Galley Kitchen Design Tips

To make the most of a galley kitchen, you can consult a local kitchen remodeling company. In the meantime, here are some design tips to help you get started:

Install glossy tiles. For some homeowners, a galley kitchen might feel too small. Here's a trick for making a small space feel more roomy than it actually is: maximize natural lighting. One way of doing that is to install glossy tiles, which reflect light around a galley kitchen.
Stick to neutral design schemes. The galley kitchen should fit in seamlessly with the rest of your interior. Installing wood cabinets and sticking to neutral color palettes can make it seem like the kitchen is more connected to your interior.
Install built-in appliances and storage cabinets. A galley kitchen's countertop should be kept clear as much as possible, which is why built-in appliances and storage cabinets are a smart option.
Let's Start a Conversation!
DreamMaker Bath & Kitchen of Orland Park offers a wide range of professional remodeling services, including kitchen and bathroom renovations. To get started on your project, call us at (708) 320-3417 or get in touch with us via our online form. We serve homeowners in Orlando Park, IL, as well as the surrounding communities.