---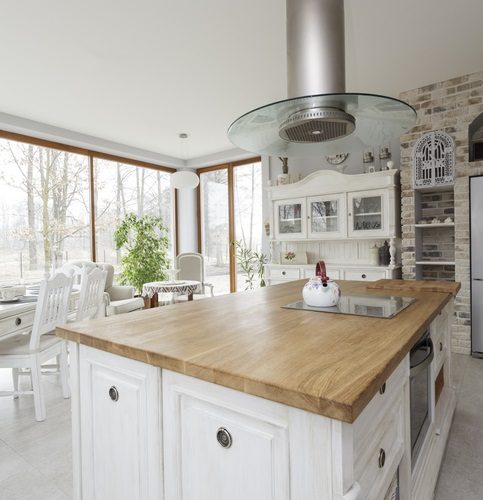 ---
The Tuscany region of Italy is known for its beauty and distinctive architecture. Tuscan homes combine a rustic mix of natural, warm textures and hues. If you like designs that feel warm and welcoming, then a Tuscan-style kitchen might be a great choice for your home. DreamMaker Bath & Kitchen of Orland Park, one of the top kitchen remodeling companies in our area, has some tips to help you with this kitchen style.
Tuscan Kitchen Characteristics
Tuscan kitchens feature earthy colors like burnt orange, terracotta, soothing yellows and Mediterranean blues. These colors are used to invoke the relaxed and luxurious feeling of Tuscany. Tuscan kitchens also include wood cabinets and matte or distressed surfaces. These surfaces give the kitchen a well-used and well-loved vibe. Sunlight is also important in Tuscan-style kitchen designs.
Elements to Keep in Mind
When choosing colors for your kitchen remodel, focus on shades that get inspiration from the blues of the sky, the reds of the earth and the yellow of the sun. You'll need to keep six elements in mind: antiquity, wood, metal, stone, color and adornment. Woodwork is vital in Tuscany so make sure to be thoughtful about the selection of wood cabinetry.
Use terracotta or travertine flooring, or you can also use distressed wide plank flooring to achieve the same effect. Rough-hewn stone features are a common Tuscan element, so consider using manufactured stone veneer that is easy to source and install. In general, make sure to use a lot of wood and stone features to give your kitchen a rustic feel.
DreamMaker Bath & Kitchen of Orland Park can help you with your contemporary kitchen remodeling project and all of your other remodeling needs. We have many years of experience and use a distinctive, full-service remodeling approach to all of our projects. You can rest easy knowing that your project will be completed in the quickest and most efficient manner possible. Call us at (708) 320-3417 to learn more about our services and products, or to schedule a consultation.