---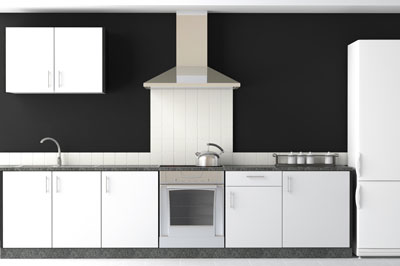 ---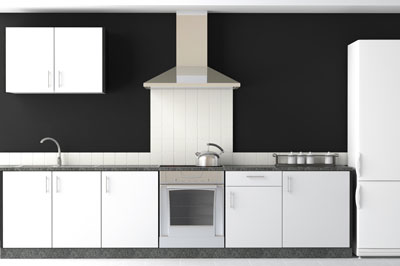 Are you planning a kitchen or bathroom makeover? One of the easiest ways to make a huge impact on your remodel project is to pick a new color scheme and incorporate it into your design. This doesn't apply only to painting walls, of course. You can use your kitchen remodel colors selection throughout your entire kitchen renovation, including flooring, tile, cabinets and appliances. Here are several effective color schemes that are perfect for both bathroom and kitchen remodeling projects.
Black / White
Many homeowners find black and white particularly appealing for bathroom and kitchen remodels. This combination creates a sophisticated, classic, and sleek atmosphere in your space. So talk to your home remodeling company about using black and white for your bathroom or kitchen remodel.
White / Red
Choosing red and white can have a similar impact on your kitchen or bathroom. Depending on the shade of red you select, your space can either scream sophistication or simmer with warmth.
Brown / Grey
Like the idea of a warm bathroom or kitchen? Talk to your home remodeling contractor about incorporating brown and grey into your design plans. This pair is cozy and neutral, without being too bland.
Blue / Black
Blue and black are becoming a common choice for homeowners planning a bathroom or kitchen remodel. These colors generate a cool and refreshing, yet incredibly sleek, atmosphere.
Want Professional Assistance with Your Bathroom or Kitchen Remodel?
Would you like professional assistance and guidance as you plan and execute your bathroom or kitchen remodel? Contact DreamMaker Bath & Kitchen of Orland Park today to speak with a contractor about your upcoming project. We offer a wide variety of construction, renovation, and remodeling services. Visit our website for more information about our company. To schedule an appointment, call (708) 426–1100 today!
Edited by Justin Vorhees
Bathroom and Kitchen Remodel Assistance
serving the locations of Orland Park, Tinley Park and Palos Heights. Our service area also includes Frankfort, Mokena, New Lenox, Homer Glen, Lemont and Palos Park