---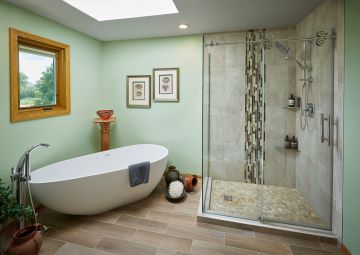 ---
Depending on how well you plan and how reliable your contractor is, bathroom upgrades can be either exciting or overwhelming. In this article, DreamMaker Bath & Kitchen of Orland Park discusses a few important questions you need to ask yourself before deciding to renovate your bathroom.
What Needs to Be Upgraded?
When you look at your bathroom and its fixtures, what catches your attention first? Is it the outdated bathtub? The lackluster knobs and faucets? The inefficient lighting? If all you're noticing are the not-so-pleasant aspects, then it's probably time for a bathroom overhaul. Start with the elements that you're not happy with, then work your way down to the items that you think could be improved upon until you finally end up with a new bathroom design that you love.
What Is My Budget
Every remodeling project, however major or minor, needs to have a budget. Setting limits on how much you are willing to spend will also provide you with parameters through which you can make remodeling-related decisions, such as the materials to be used. If the bathroom remodeling job that you want is a little bit out of budget, most bathroom remodeling contractors offer financing options to assist.
What Do I Want My Bathroom to Look Like?
Budget concerns aside, you should also be thinking about what you want your bathroom to end up looking like after the renovation. If necessary, this will allow you to do some research regarding cost-efficient alternatives that you might want to consider instead of your initial preferences.
Put DreamMaker to Work for You
DreamMaker Bath & Kitchen of Orland Park aims to help you build the bathroom of your dreams. You can call us today at (708) 320-3417 to get started on your remodeling project. Let's start a conversation!