---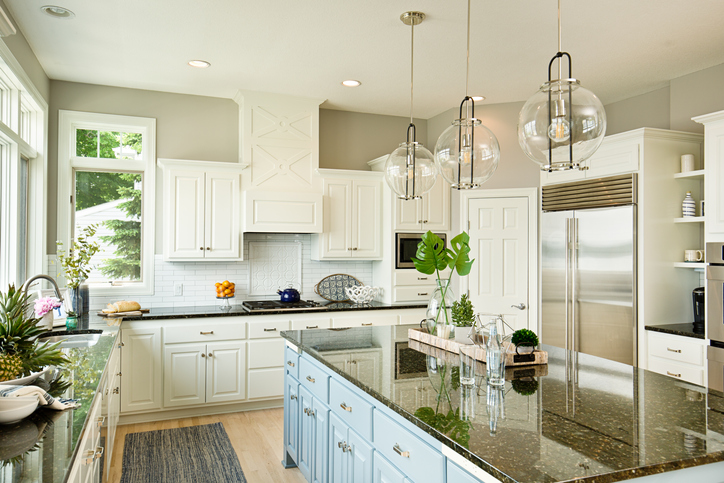 ---
In kitchen remodeling, the "work triangle" is often used as a guide in creating a kitchen design that allows users to work efficiently. The triangle includes three points: the sink, stove and refrigerator. While appropriate space between these areas ensures you will be able to move freely, you can also use them to improve the storage space in your kitchen. Here are some tips on how you can maximize every kitchen storage zone.

Refrigerator Storage

The refrigerator zone mainly serves as a food preparation area. Experts recommend placing it near the entrance to receive groceries when they arrive. Don't worry if this isn't the current placement of your fridge. As long as you remember the primary function of this zone, organizing your kitchen storage space will be no problem.

On that note, it's ideal to have a countertop next to or across from your refrigerator. This allows you to set down grocery bags near the fridge and freezer, where cold items can be quickly placed. It's also a good idea to have cabinets or a pantry nearby where you can store canned goods and other dry items. You should also consider having utensils and mixing bowls in this area since all food items are already here.

Sink Storage

Kitchen remodelers usually place the sink between the refrigerator and the range. Sinks are typically involved in any activity in the kitchen, so installing them at the center of the room allows for better efficiency.

When organizing the sink area, it's important to have a clutter-free countertop space. This area is meant for food preparation tasks like cleaning and cutting as well as cleaning up after meals, and you need enough space to perform these jobs. Additionally, it's best to place your trash and recycling containers in a strategic location so that tidy disposal is effortless. Everyday flatware, glassware and dishes — as well as cleaning supplies — should be in your sink storage zone too.

Stove Storage

Since this is where all the cooking is done, it makes sense to position the stove area toward or near your dining room. Ensure that there's enough countertop space next to the range or cooktop so that it's easy to quickly set down hot items. Potholders and other items used in handling hot cookware should be in this area. Serving dishes, bowls and other items that help you get food to the table should be stored here as well.

Let's Start a Conversation!
DreamMaker Bath & Kitchen of Orland Park has a solid reputation for excellent remodeling services in the south suburbs of Chicago. We specialize in kitchen renovation, bathroom remodeling, safety and mobility improvements and more. Call us at (708) 320-3417 or fill out our contact form to start a conversation.