---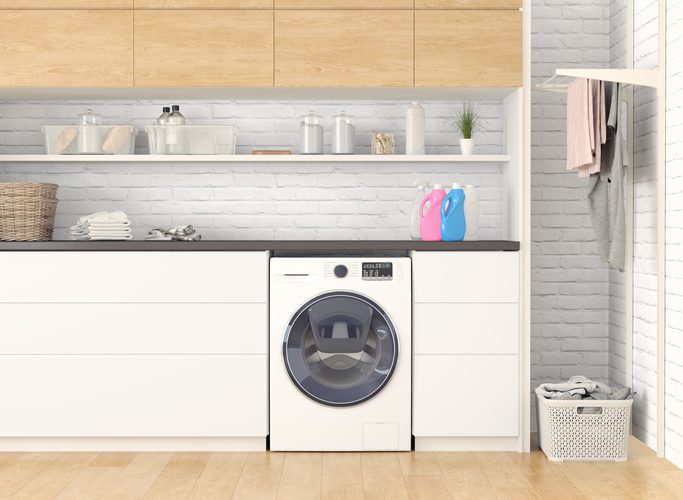 ---
Whether you enjoy doing laundry or not, it's a necessary chore. If you want to make every laundry day an enjoyable experience and keep the laundry room tidy and efficient, check out these storage and organization ideas from your reliable team of bathroom and kitchen remodelers at DreamMaker Bath & Kitchen of Orland Park.
Add Hanging Bars
Make the most of unused wall space by adding simple tension rods that can be used for air drying or as a temporary landing place for freshly laundered garments before folding and putting them in the closet. If you already have some, consider installing more!
Add More Countertops
It'll be easier to work when you have more countertop space. You can fold your clothes right after you take them out of the dryer if you have enough space. Countertops can also hold additional storage items, such as baskets.
Install Open Shelves
Open shelves make better use of wall space. Aside from serving as storage space, you can also spice up the laundry room's look by displaying a few decor items.
Invest in Matching Storage
Open shelving paves the way for creative storage. Matching storage items, such as identical wire baskets, which will give a uniform look. These baskets can be used to store detergent, hangers and other items.
Keep Ironing Boards & Stepladders Within Reach
These could be among the most-used items in your laundry room. When not in use, you can discreetly stash them between the washer and dryer or hang them on sturdy hooks or a pegboard.
Don't Forget the Door
The back of the door can also be used for additional storage. You can mount hooks or a hanging bar there. Just make sure that the door material can handle the weight.
Let's Start a Conversation
For more clever laundry room storage ideas, consult an interior and bathroom remodeling specialist at DreamMaker Bath & Kitchen of Orland Park. Call us today at (708) 320-3417 or send our online contact form to start a conversation and schedule a free consultation.