---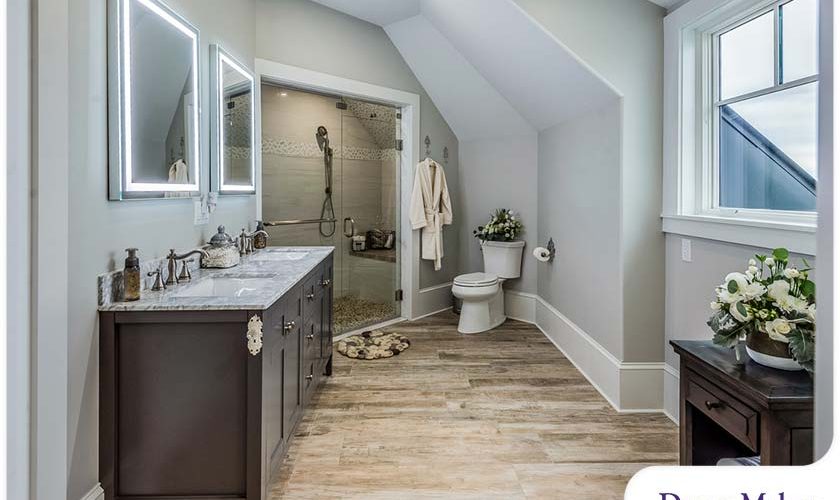 ---
The idea of an open floor plan is to create a cohesive space without any partition walls to create separation. That same concept, however, is making its way inside bathrooms with wet rooms. It is exactly what it means – an area designed to get wet. It offers more than just an enhanced bathroom experience by providing more safety and convenience for anyone using it. As long as it is properly designed by a professional home remodel contractor, a wet room can also become as stylish and efficient as a traditional bathroom space.
What Is a Wet Room?
A wet room is simply a bathroom where the floors and walls are sealed with a waterproof membrane. The shower area is flushed with the rest of the floor so that all the water drains through that part of the room. The floor is often designed with a slight slope which helps guide any water towards the drain and into the excess wastewater system.
How Does It Differ From a Normal Bathroom?
A traditional full bathroom setup has a shower area already considered a "wet room." It can also have glass panels to separate it from the rest of the room to prevent the water from splashing around whenever used. But unlike a traditional bathroom, a wet room doesn't have a door in its shower area. Instead, it has glass panels that act as a partition to the rest of the space.
Wet rooms may have similar features to walk-in showers, but their main difference is that the entire space has an open-plan design with the whole floor altered to allow water to drain into a single drainage unit. Of course, you can also design your wet room bathroom remodel to feature shower screens that can reduce the water from spraying into the rest of the room.
Is It Ideal for Your Home?
A wet room can be a great alternative to a traditional bathroom for many reasons, including ease of maintenance. It's designed with minimal lines on the floor and walls so it's easy to wash and wipe away the grime regularly. And because of the open-floor design, it's also ideal for smaller bathroom spaces as it helps make the area look bigger.
A wet room renovation can also be ideal for older folks and those with limited mobility. The floors are already accessible, with no raised or lowered areas that may otherwise lead to accidental injuries. The floor plan can even be designed with safety and accessibility in mind so that the bathroom user, no matter the age and ability, can enjoy increased comfort and convenience.
Let's Start a Conversation!
For your bathroom renovation needs, turn to the experienced team of designers and installers at DreamMaker Bath & Kitchen of Hollywood. Give us a call at (305) 925-5999, or fill out our contact form to start a conversation. We serve residents in Hollywood, Hallandale Beach, Aventura, Golden Beach, Pembroke Pines, Miramar, Dania Beach, Davie, and North Miami Beach.
Watch out for Part 2 of this blog series, where we'll discuss a few considerations to keep in mind when designing your wet room.