---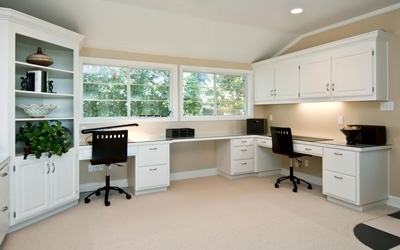 ---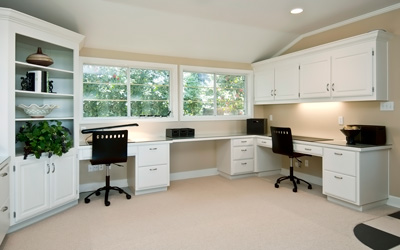 When homeowners think about cabinets, they typically visualize bathroom updates or kitchen remodeling. There are several other locations in your home that can greatly benefit from installing new cabinets, however. If you're planning a Mechanicsburg home remodeling project, consider asking your professional contractor to install cabinets in the following places:
Media Rooms
If you have a home theater room, consider adding cabinetry during your next home remodeling project in Mechanicsburg. Cabinets will allow you to more easily store your movies, as well as your popcorn and candy!
Home Offices
Do you work from home? Consider increasing the storage and functionality in your home office by installing new cabinets during your Mechanicsburg home remodeling project.
Master Bedrooms
Master bedrooms are also an ideal location for cabinetry. Include cabinets in your upcoming Mechanicsburg home remodeling plans if you want more storage in your master bedroom.
Entertainment Areas
Living rooms are the perfect place for additional cabinetry. Consider creating additional space to store movies and other media items in your living room when making plans for home remodeling in Mechanicsburg.
Bar
Do you have, or are you planning to add, a wet bar in your home? You'll need a place to store your drinks and cups! Don't forget to include cabinetry in your wet bar home remodeling project in Mechanicsburg.
Hobby Rooms
If you're a DIY-enthusiast or collect board games, adding cabinets to your hobby room is an excellent way to capitalize on space. Talk to your contractor about incorporating cabinetry into your home remodeling plans in Mechanicsburg today.
Need Assistance with Home Remodeling in Mechanicsburg?
DreamMaker Bath & Kitchen of Elizabethtown today for expert home remodeling services in Mechanicsburg. Visit our website for more information or to schedule a free consultation online. Call (717) 340–9330 to speak with a professional about your upcoming home remodeling project in Mechanicsburg today!
Mechanicsburg Home Remodeling
Serving the communities of Hershey, Mount Joy, Lancaster, Harrisburg and, of course, Elizabethtown. We also serve York, Lititz, Camp Hill, Mechanicsburg, Manheim, Bainbridge, Lebanon, Palmyra, Middletown, and Hummelstown