---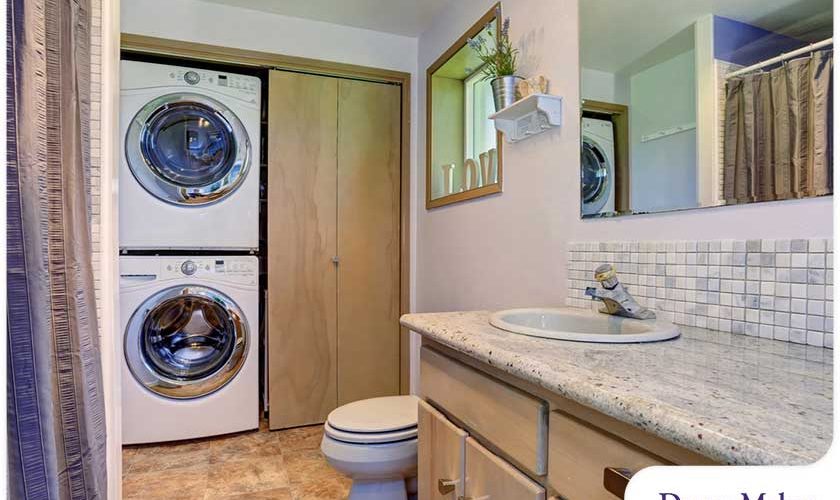 ---
When space is at a premium in the home, it can be difficult to dedicate an entire room to laundry. But here's an idea: how about adding the washer and dryer in the bathroom? You may find this more convenient, but you'll need to consider a few essentials in order to integrate them properly into the space. A trusted bathroom remodeler in the area, DreamMaker Bath & Kitchen of Elizabethtown, shares some tips:

Find the existing plumbing. Fitting a washer and dryer in the bathroom is simpler because the space already has existing plumbing. However, you'll still need to place the washer on the same wall as the existing pipes. This typically means the area adjacent to, or on the backside of, the bathroom or mechanical room wall, where the water supply and waste lines are more accessible.
Stack the washer and dryer. If you own a front-loading dryer and washer, you can stack them to help save space in the bathroom. You can even install a shelf above them for extra storage. Since these machines generate moisture, you'll also need to have an air vent installed from the dryer to the exterior wall. To ensure the installation will be done safely and correctly, work with a leading bathroom contractor like DreamMaker Bath & Kitchen of Elizabethtown.
Consider an all-in-one unit. You may want to consider an all-in-one unit (both washer and dryer) for extra square footage in the bathroom. While getting an all-in-one machine means a longer laundry cycle, it does offer a few advantages. For starters, it won't require installing an exterior air vent. You'll also benefit from greater energy savings.
To better integrate an all-in-one unit into your bath space, install it under the counter or vanity. Most models are conveniently sized to allow for this. You also have the option to place the unit inside a closet, or just hide it completely inside an enclosure that's designed to resemble your bathroom cabinets. This helps ensure it won't detract from your bath's overall style.

Design Your Dream Bath With DreamMaker
Just look up "bathroom contractor near me" online and you'll see that DreamMaker Bath & Kitchen of Elizabethtown is on top of the search results. You can count on us for an expertly designed bathroom that allows you to make the most of your space. We serve homeowners in and around Elizabethtown, Hershey, Camp Hill, Mount Joy, Lancaster and Palmyra. Call us today at (717) 298-3830 or fill out this contact form to start a conversation!