---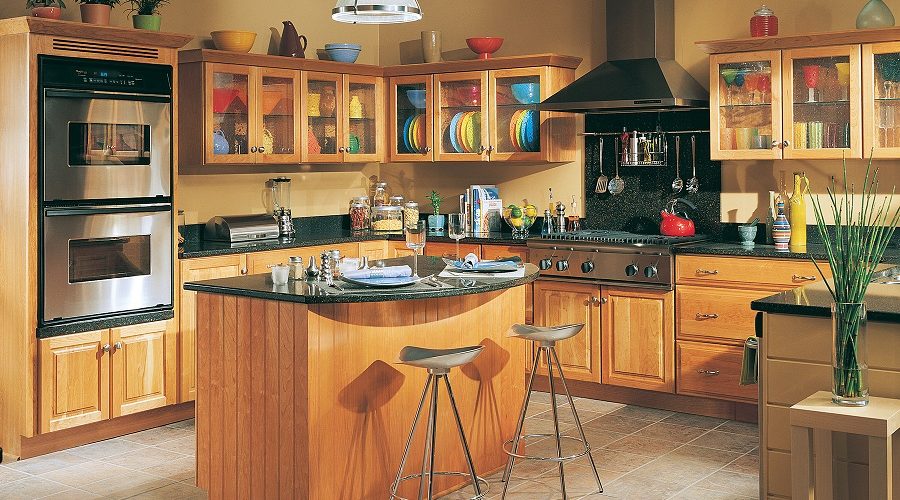 ---
With today's kitchens boasting so many creative layouts and beautiful finishes, it's hard to imagine that at one time, the best feature a kitchen could offer was multiple burners on the stove. DreamMaker Bath & Kitchen of East Georgia, your local kitchen remodeling company, shares some of the popular kitchen trends through the decades.
1920s
During this decade, the cooking stove was the most prominent feature in the kitchen. Having multiple burners was a big advantage for the cook because it allowed multitasking. It was also during this decade that enamel finishes became trendy, which made wiping down spills and splatters much easier. Other labor-savers included electric dishwashers, waffle irons and toasters, and built-in shelves, cabinets and drawers for organizing. A pure white aesthetic was the most popular color scheme.
1950s
The post-war 1950s brought on livelier kitchens with colorful motifs and unique designs. Bright and cheery was the order of the day, with lots of yellows, mint greens and other pastels on walls and appliances. Most 50s kitchens had Formica countertops with metal banding around the edges. Colored and checkered linoleum were also a staple.
1980s
The 1980s paved the way for streamlined kitchens and neutral color palettes. White, beige and brown were dominant in wallpapers, cabinets and flooring. For appliances, white, black and ivory reigned supreme. The kitchen island became a mainstay — the bigger the island, the better. One reason for this was that kitchens had evolved into a space for socializing, not just for preparing meals.
1990s
Country charm influenced the 90s kitchen. Oak cabinets were usually paired with light laminate, tile or granite countertops. Floors were vinyl, hardware was brass, and kitchen lighting consisted of a box light or single overhead light. As for color, pastels and florals were common selections to complement the country aesthetic.
2000s
Sleek, minimalistic designs and muted colors made up the contemporary kitchen. Homeowners favored smarter storage solutions, a more efficient layout and convenient features to go with a fast-paced lifestyle. Earthy, natural colors like beige, white and brown were prominent. Subway tiles, reclaimed wood and marble were other staples.
The best thing about past kitchen trends, however, is that they can be refreshed and modernized. You can mix and match some design choices of decades past with today's sleeker ones, allowing for a unique kitchen space. If you're aiming for this look, just turn to DreamMaker Bath & Kitchen of East Georgia for a kitchen quote.
Your Source for the Best Kitchen Designs
DreamMaker Bath & Kitchen of East Georgia can transform your kitchen into one you'll want to proudly show off. Call us today at (478) 268-4206 or fill out our convenient online form to schedule your consultation.
Kitchen and Bathroom Remodeling Services
If you live in Dublin, East Dublin, Dudley or Dexter and are interested in learning more about remodeling your kitchen or bathroom, don't hesitate to contact the DreamMaker Bath and Kitchen of East Georgia team.