---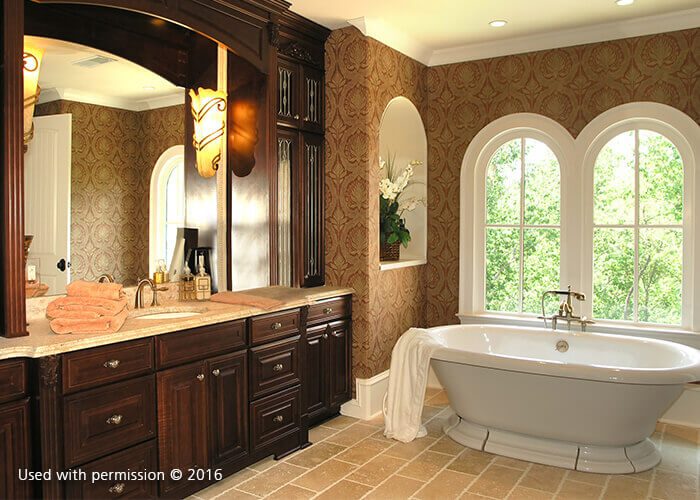 ---
Bathroom remodeling is noisy, dusty and involves a lot of foot traffic through the house. It will also last for several days or even weeks, which means you and your family need to be prepared. In this blog, the
interior remodeling contractors
at DreamMaker Bath & Kitchen share tips on how to survive a bathroom remodeling project.
Protect Your Home from Dust
Your bathroom remodel will leave your home dusty. During the first few stages, dust will come from the old drywall and structural components being torn out. Sawdust, unmixed grout and dust from cut tiles will also be floating around. This is why you should protect all furniture, electronics and valuables in the vicinity with dust covers. Keep the doors to other rooms closed to minimize dust infiltration. In every
home renovation
project we work on, we make sure that the work areas are properly ventilated, using ventilator fans mounted at the windows to keep dust from lingering indoors. Your HVAC system will also be catching excess dust, so you need to inspect the air filter as often as once a week since it will get dirty faster than usual.
Set Up a Temporary Bathroom
You'll be needing a temporary bathroom if you're remodeling the only bathroom in the house. Ask your contractor if they offer temporary showers and toilets. If not, rent one. Make sure the temporary bathrooms and showers are set up on the premises at least one day before remodeling work begins.
Anticipate Delays
A well-planned bathroom remodel should finish on time. However, you should also anticipate circumstances that could cause a delay. Inclement weather, unplanned repairs or components with unexpectedly slow cure times can all slow your project down. If you're planning on inviting friends and family over, pick a date that's at least one week after the expected completion date. Also prepare for unplanned repairs with an emergency fund that's in addition to the contract price. The equivalent of 10% to 20% of the project cost should be enough to cover repair costs.
Let's Start a Conversation!
DreamMaker Bath & Kitchen of East Georgia is your leading local provider of remodeling services. Give us a call at (478) 268-4206 or fill out our
contact form
to discuss your next
bathroom remodel
. We serve customers in Swainsboro, Dublin, Statesboro, Vidalia and Metter, GA, and nearby areas.
If you live in Swainsboro, Dublin, Statesboro, Vidalia, or Metter and are interested in learning more about remodeling your kitchen or bathroom, don't hesitate to contact the DreamMaker Bath and Kitchen of East Georgia team.