---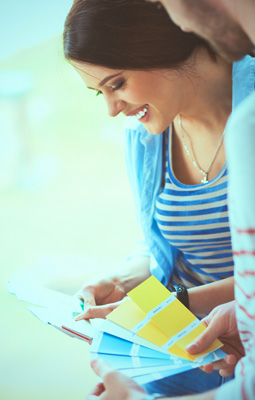 ---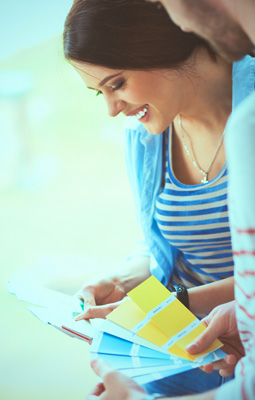 Have a big renovation project in mind for the new year? If you're interested in updating your kitchen, bathroom, or any other part of your home, some of the first decisions you'll need to make are which colors you want to incorporate into your plans. There are a ton of options to choose from, but it's important to find the perfect color selections for you and your home. Your contractor will be able to recommend the best paint brands and gloss level for your project, but here are three great tips to help you get the color right.
1. Find Your Color Combination
Are you familiar with the Rule of Three? There are actually a number of different rules dealing with the number three, likely due to the fact that things grouped in odd numbers are visually appealing to the eye. This is no different in design. When planning out your new space, identify and use three different colors: primary, neutral and accent.
2. Use Each Color Appropriately
The Rule of Three in color and design doesn't stop there. It also encourages homeowners to use each of the three colors selected at least three times in the space. If you're planning a bathroom update and want blue walls, make sure to use the same shade of blue as an accent or in the décor at least twice more.
3. Tie It All Together
You should look at any home renovation project as an opportunity to make your home more cohesive. Walking from a neutral colored living room into a gaudy bathroom can be rather jolting, after all. Find ways to use similar colors throughout your home so that it looks and feels more consistent.
Ready to Discuss Your Perfect Color Selections with a Professional?
Think you've found the perfect colors for your kitchen, bathroom, or living space? The job isn't done yet! Discuss your project with a certified contracting professional at DreamMaker Bath & Kitchen of East Georgia. We will ensure provide you with the best paint quality and service. We're happy to offer free consultations to new customers and know you'll love how easy it is work with us. To learn more about our company and the many home remodeling services we offer, visit our website. You can also call us at (478) 268-4206 with question or to set up an appointment.
Kitchen and Bathroom Remodeling Services
If you live in Dublin, East Dublin, Dudley or Dexter and are interested in learning more about remodeling your kitchen or bathroom, don't hesitate to contact the DreamMaker Bath and Kitchen of East Georgia team.