---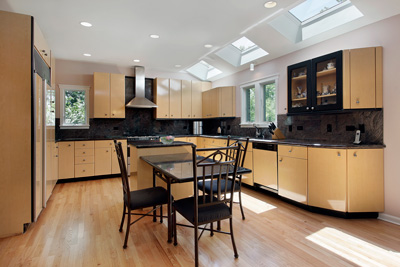 ---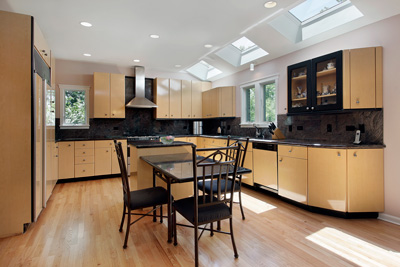 Are you looking for a way to improve your kitchen and bathroom lighting? There are a number of great ways to improve lighting in your home. Start your bathroom or kitchen update by considering where you need light most. Consider which areas of your kitchen and bathroom are darkest and then decide what kind of light would work best to brighten them. While a professional contractor can help you with the specifics, here are four great ways to easily brighten up kitchen and bathroom spaces in your home.
1. Recess Lighting
Many homeowners love recess lighting because it easily rids a space of unwanted shadows. This type of lighting isn't limited to kitchens and bathrooms; it's perfect for any room in your home.
2. Skylight
If you're a fan of natural light, consider adding a skylight during your next kitchen or bathroom remodel. Skylights are a great way to enhance kitchen and bathroom lighting naturally, without a lot of electrical work. They can have a dramatic impact on any space.
3. Under-Cabinet Lighting>
Your kitchen is one of the most important rooms in your home. Ensuring that you have good lighting is important. If you do a lot of cooking, it's probably worth adding under-cabinet lighting. These lights will illuminate your counters, making food preparation much easier.
4. Over-Cabinet Lighting
Functional lighting isn't the only thing you should consider for your home renovation project. Over-cabinet lights can add ambiance and are perfect for illuminating collectables. These lights can be subtle enough not to disturb the entire household at night as well.
Ready to Add More Light to Your Kitchen and Bathroom?
If you think your home could benefit from improved lighting in your kitchen and bathroom, contact DreamMaker Bath & Kitchen of East Georgia today. We offer a variety of remodeling and construction services for our customers. Our professional contractors are well-trained and can assist you in selecting the perfect lighting options for your spaces. Visit our website for more information about our company or to inquire about our free consultation offer. Call (478) 268-4206 to schedule an appointment today!
Kitchen and Bathroom Lighting
If you live in Dublin, East Dublin, Dudley or Dexter and are interested in learning more about remodeling your kitchen or bathroom, don't hesitate to contact the DreamMaker Bath and Kitchen of East Georgia team.