---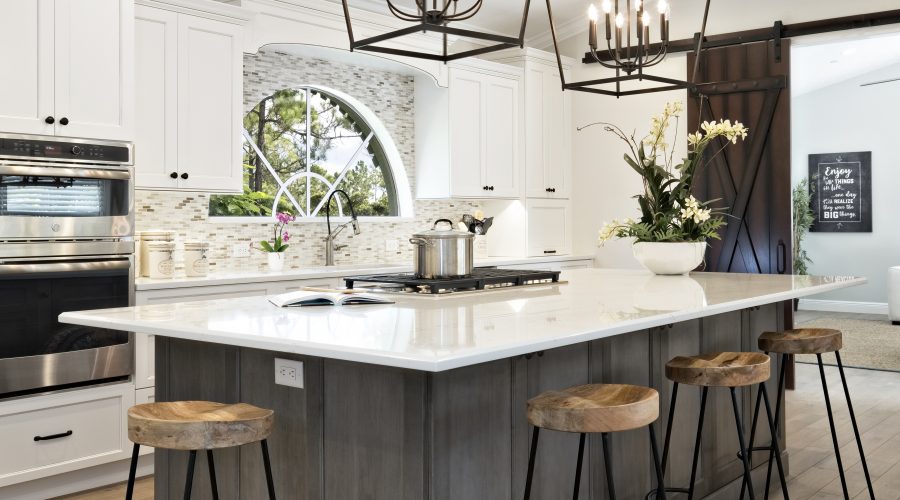 ---
After the era of the show kitchen, it seems functionality won over. In a recent poll conducted by Sub-Zero and Wolf, suppliers of premium refrigeration, wine preservation and cooking equipment, three out of four kitchen design professionals completed more projects for function over form. They focus more on creating a design that fits into the clients' living and cooking styles rather than designing a "show kitchen."
The group selected to participate in this poll was comprised of 53 regional and eight global winners of Sub-Zero and Wolf's 11th annual Kitchen Design Contest, all of whom were polled on trends in kitchen design, products and consumer purchasing priorities.
Now, let's break down the findings.
Seven out of 10 designers say open floor plans are still in demand. What does this mean? An open floor plan is any floor plan which makes use of large, open spaces and minimizes the use of small enclosed rooms. The best example of this plan is the "great room" which combines the kitchen, dining room and living room into one shared space. It is best to use this in homes with less square footage. There are many pros that come along with this layout such as: more social time, keeping your eye on the kids, increase views and natural light and better for entertaining all around.
Seventy-two percent of designers agree the formal dining room is a thing of the past. When retained, formal dining spaces are becoming part of a different room divided by barn doors or drapery, which allow homeowners to close up the space but keep it open if they choose. This trend; however, seems to focus in on the homes that are 2,500 square feet or lower. Instead, they are making them multi-functional. Homeowners are not willing to give up fully on the formal dining room, but rather find a way to convert it into a library or home office during its off season.
White is still the most popular color in the kitchen, but design professionals are seeing a rise in the new neutrals and accent colors, with gray, blue and black as the most popular colors. Having a white kitchen allows for versatility with other design elements such as: accent colors, tiles, and appliances while providing a welcoming feel and the illusion that you have a larger kitchen. Now the new colors on the horizon create a sense of calm in the kitchen and are just as easy on the eyes. Even though they do not help create an illusion that the kitchen is bigger, they bring crisp feel to the design front.
Design professionals named convection steam ovens and induction cooktops as the hottest appliances. Integrated appliances are also in demand. The convection steam ovens cook food faster and more evenly than conventional ovens. On top of that, the food retains more nutrients because you are steaming the product. The only downside is that you cannot brown foods the way convection ovens do. Induction cooktops are powered through magnetic induction rather than thermal induction so, no fire or electrical heating element here. This allows for rapid increases in temperature. Integrated appliances are appliances that have been built into the cabinetry and do not take away from the room's aesthetics.
Wood is the number one material of choice, followed by quartz and stainless steel. Whether these materials are used in appliances, flooring, countertops or anything else you can think of, all of the materials are wonderful selections. It is easy to see how they have risen to be the top materials used. All are durable, easy to clean and create clean lines while bringing a sense of nature into the home through a simple change.
82 percent of design pros say the kitchen island is a must have, while 72 percent point to recycling centers. Who says you can't have your cake and eat it too? You shouldn't have to choose. The kitchen island is fundamental necessity in any kitchen because it allows for easy entertaining and food preparation while creating more space for appliances and cabinetry. It is understandable why this percentage is so high. A recycling center is an easy way to remember to recycle. Usually hidden by cabinets, three bins reside; one each for paper, plastic and waste. If you want to go super green, add a green bin for items that will go in the compost pile. You will be surprised with how little waste will actually be headed to the landfill.
More than half the design professionals surveyed agree the outdoor kitchen is becoming more popular. Outdoor kitchens are the new must-have. When the weather is nice, there is no better way to soak up some rays in the early evening than enjoying dinner in the great outdoors, even if it is in the middle of a concrete jungle. It is an easy way to turn your backyard into a little oasis. You can deck this out with a grill, bar, mini-fridge and so much more. You basically could take your entire kitchen outside.
Children are becoming more interested in cooking and the cooking process, but designers need to figure out how to best incorporate this new demographic. How can we get the kids in the kitchen? Do we create lower snack drawers for them to reach in and grab healthy snacks out of a refrigerated drawer? Do we have a section of the counter that is lowered for them to use as they learn the fundamentals of cooking? There are so many different options to be used and tested to make the kitchen a kid-friendly environment.
Aging Americans are looking for a cleaner design with fewer ledges and grooves. This makes complete sense. Fewer ledges and grooves allow for safer mobility. By creating a space that grows with you, you can stay in the same place for longer without the fear of getting hurt in your own home, allowing you to thrive on a day-to-day basis in the comfort of your own home with a few design changes.
There is a transition to "organic design" in which salvaged woods and recycled materials are being incorporated into the home, not solely in terms of materials but also in living things like plants. Have you seen the tables that have built-in succulent planters? They seem to be all rage at the moment. What about the salvaged woods, upcycled furniture and sustainable materials that are now being used? Here is your moment to shine bright and bring the outdoors in.
While there is a growing interest in the modern aesthetics, the most popular and widely categorized style of kitchen design is transitional. Transitional styling is a combination of traditional sophistication and contemporary simplicity. It combines luxu 3ry with minimalism to create a home that radiates tranquility. Transitional style is all about finding that balance between something classic and something a little more humble – it's the best of both worlds. Colors are inviting and neutral and patterns are discreet in order to create a true place of peacefulness. Instead of using eye-catching colors, textures are relied upon to create visual interest. Transitional style uses a mixture of matte and polished finishes as well as leather furniture, wooden frames and other tactile materials and features. Clean lines mixed with a pinch of luxury and ornate styling create a soothing and serene transitional home.
Let's Start a Conversation!
Turn the kitchen of your dreams into a reality with the help of our skilled craftsmen at DreamMaker Bath & Kitchen of East Georgia. We are trusted local home remodeling professionals in Swainsboro, Dublin, Statesboro, Vidalia and Metter, GA, and nearby areas. Give us a call at (478) 347-7108 or fill out our contact form to start a conversation today!
If you live in Swainsboro, Dublin, Statesboro, Vidalia, or Metter and are interested in learning more about remodeling your kitchen or bathroom, don't hesitate to contact the DreamMaker Bath and Kitchen of East Georgia team.