---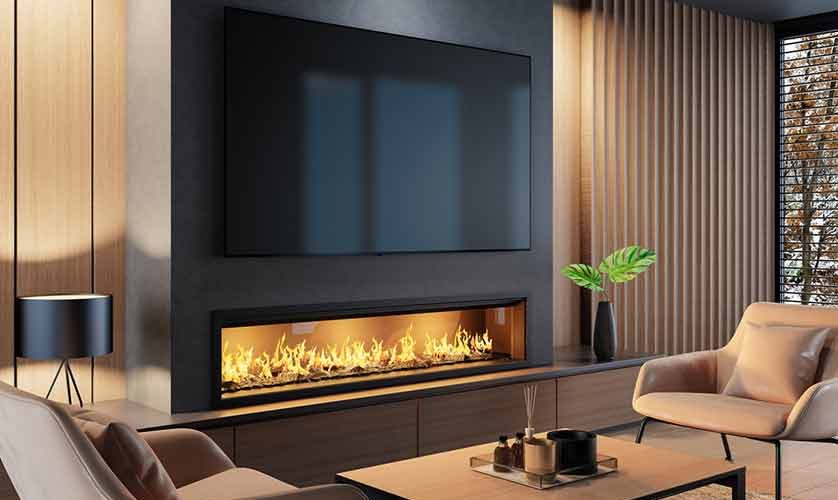 ---
For generations, homes have valued the fireplace as a symbol of warmth, comfort, and gathering. When carefully built, it can become your living room's focal point, adding aesthetic appeal and a pleasant, inviting ambiance. Here are some easy and effective interior remodeling tips to help you make your fireplace the centerpiece of your living room.
1. Opt for Striking Surrounds
Enhance the visual impact of your fireplace by choosing a striking surround. Materials like natural stone, elegant tile or a contrasting paint color can frame your fireplace, making it stand out in the room.
2. Creative Mantel Design
The mantel is the perfect spot for personalization and creativity. Decorate it with a unique art piece, family photos or a collection of decorative items that reflect your style and personality.
3. Art as a Focal Point
Hanging a large, eye-catching piece of art above the fireplace can instantly make it the focal point. The artwork can set the tone for the entire room's design.
4. Complementary Color Schemes
A good home remodel plan takes color into consideration. Select a color scheme for your living room that complements the fireplace. Neutral or contrasting colors can make the fireplace pop and create a harmonious aesthetic.
5. Cozy Seating Arrangement
Arrange your furniture to center around the fireplace. This helps create a cozy seating area that encourages people to gather and enjoy the warmth and charm of the hearth.
6. Clever Lighting
Install lighting fixtures or sconces on the wall to illuminate the fireplace area. Subtle, warm lighting enhances the fireplace's appeal and creates an inviting ambiance.
7. Fireplace Accessories
Consider fireplace accessories that add character to the space. A collection of candles, a statement mirror, a stylish firewood holder or decorative tools can enhance the fireplace's visual appeal.
8. Display Artful Shelving
Open shelving on one or both sides of your fireplace can be used to display art, books or decorative objects, adding character and visual interest to the space while drawing the eye towards the fireplace.
9. Fireplace Screen or Glass Enclosure
Consider a decorative fireplace screen or glass enclosure. Either one of these features not only enhance safety but also become a stylish design element. A beautiful screen or glass enclosure can make the fireplace stand out.
Let's Start a Conversation!
Turning your fireplace into a living room's focal point is a rewarding endeavor, both aesthetically and functionally. Work with a reliable general contracting team to get the right blend of design and practicality in creating a centerpiece that enhances your lifestyle while making a striking visual statement.
Ready to make your fireplace the heart of your home? Contact DreamMaker Bath & Kitchen of Colorado Springs at (719) 636-2444 or complete our online form to schedule a consultation. We serve Colorado Springs, Woodland Park, Monument, Castle Rock, Glen Eagle, Black Forest, Falcon, and the rest of El Paso County.