---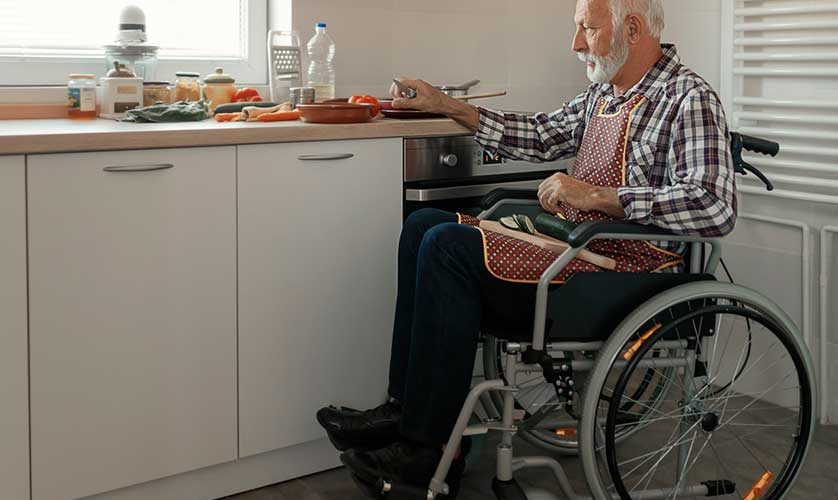 ---
An ADA-compliant kitchen not only promotes safety and comfort but also fosters a sense of independence for individuals with physical limitations. In this post, accessible remodeling contractor DreamMaker Bath & Kitchen of Colorado Springs walks you through the key features of an ADA-compliant kitchen.
Accessible Work Surfaces
One crucial aspect of ADA-compliant kitchens is ensuring accessible countertops and work surfaces are at the appropriate height for wheelchair users or those who require a seated position. Typically, this means countertop heights between 28 to 34 inches from the floor, with ample space underneath for knee clearance.
Convenient Appliances
In addition to accessible countertops, easy-to-use appliances and controls are vital in an ADA-compliant kitchen. This includes installing front-loading appliances such as dishwashers and ovens, as well as placing controls and switches at a convenient height for easy reach. Lever handles on faucets and pull-out spray attachments can also make sinks more user-friendly.
Wide and Clear Pathways
Another key feature of an ADA-compliant kitchen involves wider pathways. Doorways should be at least 32 inches wide, with adequate space for turning around, usually a 60-inch diameter circle. This allows for comfortable and safe maneuvering for individuals using wheelchairs or walkers.
Adequate Storage
Finally, accessible storage solutions are essential for an ADA-compliant kitchen. This can include pull-down shelves, adjustable-height cabinets and drawers with easy-to-grasp handles to make it more manageable to reach out for kitchen items. Make sure to incorporate it into the design when discussing the kitchen quote with your remodeler.
Benefits of an ADA-Compliant Kitchen
An ADA-compliant kitchen is beneficial for anyone regardless of age and ability. The design elements and features are particularly helpful for individuals with disabilities, since they help promote safety and comfort while performing kitchen tasks. This, in turn, leads to improved independence and self-sufficiency.
Moreover, an ADA-compliant kitchen can also improve your home's value and marketability. Buyers with accessibility needs or who may have family members with disabilities will appreciate the thoughtful design and features of the space.
Let's Start a Conversation!
An ADA-compliant kitchen plays a crucial role in promoting independence and safety for individuals with disabilities. If you're ready to make your kitchen a more accessible space, get in touch with the trusted "kitchen remodeler near me" — DreamMaker Bath & Kitchen of Colorado Springs. Give us a call at (719) 350-4598, or fill out our contact form to schedule a conversation. We serve homeowners in Colorado Springs, Woodland Park, Monument, Castle Rock, Glen Eagle, Black Forest, Falcon, and the rest of El Paso County.