---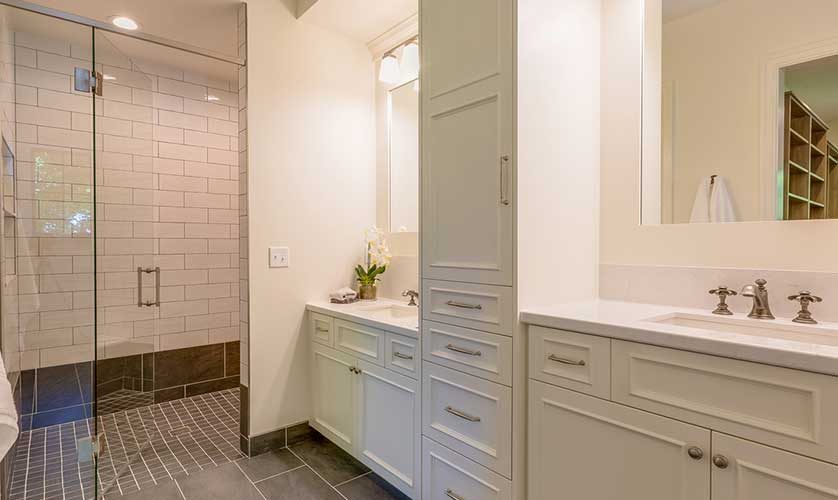 ---
Lighting is one of the most integral aspects of bathroom renovation. With the right combination of lighting fixtures, this part of your home can become the beautiful, safe and comfortable oasis that you want it to be. When planning this part of the project with your bathroom remodeler, it is important to be aware of the different types of bathroom lighting you'll want to incorporate into the design. Here's a look at three of them.
Ambient Lighting
Ambient lighting is your bathroom's main source of light. It illuminates the entire space evenly and sets the overall mood. For ambient lighting, consider fixtures such as chandeliers or recessed lights to provide a glow that's perfect for creating a relaxed bathing atmosphere.
Task Lighting
Task lighting combines functionality with aesthetics. As a functional element of the bathroom, it specifically targets areas where you perform daily tasks, such as applying makeup, shaving and brushing teeth. Key areas for task lighting include the vanity, shower and bathtub. Vanity lights mounted at eye level keep things well-lit while facing the vanity mirror. Sconces, pendant lights or track lighting can be used for maximum visibility in task areas. When selecting task lighting, it's crucial to consider the brightness and color temperature to minimize shadows — a reputable bathroom contractor can help you sort this out.
Accent Lighting
Accent lighting, as the name suggests, adds a touch of style to the bathroom by highlighting certain architectural or design features within the space. Think of it as the cherry on top that brings the bathroom's lighting design together. Accent lighting can be used to showcase artwork, showcase a beautiful backsplash or create depth through wall washing. Some popular accent lighting options include LED strip lights, wall sconces and directional spotlights.
Safety and Functionality
When planning your bathroom lighting, make sure that safety is among the top priorities. Ensure that all lights are installed correctly and that wet locations, such as the shower or bathtub, have water-resistant fixtures to avoid any accidents. Additionally, consider placing your bathroom switches in an easily accessible yet safe location, away from water sources.
Let's Start a Conversation!
Now that you've been enlightened on the fundamentals of bathroom lighting, it's time to make your dream bathroom a reality with the trusted "bathroom contractor near me" in the area. Call DreamMaker Bath & Kitchen of Colorado Springs at (719) 636-2444, or fill out our contact form to schedule a conversation. We serve homeowners in Colorado Springs, Woodland Park, Monument, Castle Rock, Glen Eagle, Black Forest, Falcon, and the rest of El Paso County.