---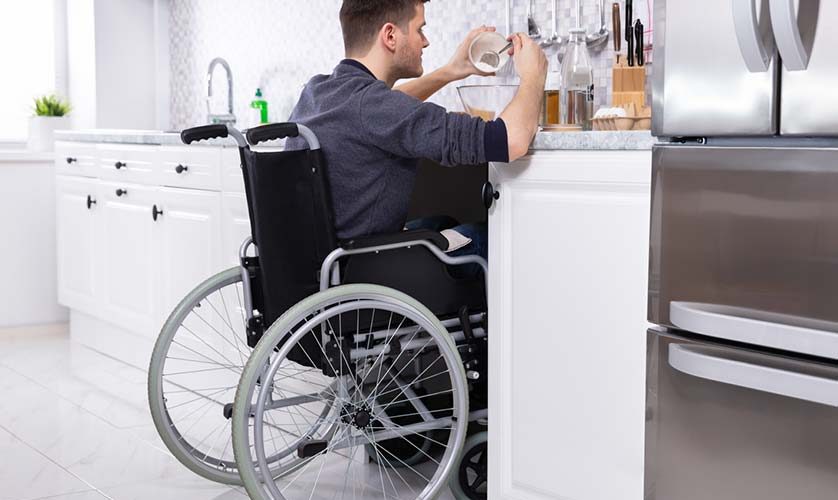 ---
Accessibility limitations shouldn't prevent one from using the kitchen and preparing a good meal with friends and family. Thanks to the Americans with Disabilities Act (ADA), creating an accessible kitchen is possible. In today's post, trusted "kitchen remodeler near me" DreamMaker Bath & Kitchen of Beaverton explores the key features of an ADA-compliant kitchen.
Features of an ADA-Compliant Kitchen
An ADA-compliant kitchen is designed with accessibility in mind, making it easier for people with limited accessibility to navigate and use the space. Here are some of the key features you can expect in such a kitchen:
Lowered countertops and work surfaces. Countertop height is an important aspect of accessible kitchen design. In ADA-compliant kitchens, countertops are typically lower than the standard height to allow wheelchair users and those with limited reach to comfortably use it.
Accessible appliances and controls. Appliances in an ADA-compliant kitchen should be easy to reach and operate. Front-loading appliance doors, large displays and front-mounted, clearly-labeled controls are among the most common features.
Open knee spaces under sinks and cooktops. The space under sinks and cooktops can be recessed to allow wheelchair users to easily access these areas without having to reach too far. Motorized, height-adjustable sinks or cooktops can also be installed to provide greater flexibility for all members of the household.
Lever-style handles and easy-to-use hardware. Door handles, faucets and cabinet hardware in an ADA-compliant kitchen should be simple to operate. Lever-style handles are preferred over knobs because they can be turned on and off without a grip or wrist movement. There are drawer and cabinet pulls with wider gaps that allow opening and closing drawers with minimal grip strength.
Planning Your ADA-compliant Kitchen Remodel
The following are a few important steps to consider when planning your ADA-compliant accessible kitchen remodel:
Assess your needs and preferences. As you start planning your remodel, take the time to assess your specific needs and preferences. This will help ensure compliance with ADA requirements, as well as your own.
Working with a professional kitchen remodeler. An experienced kitchen remodeler like us can do more than just build your kitchen. As part of our process, Independence by Design™ can ensure proper planning and design.
Let's Start a Conversation!
An ADA-compliant kitchen can greatly improve the quality of life of everyone in your household. Give our team at DreamMaker Bath & Kitchen of Beaverton a call at (503) 214-2167 or contact us online to get started with a no-obligation consultation and an accurate kitchen quote. We serve Portland, Beaverton, Hillsboro, Lake Oswego and Tigard. We also serve Aloha, Raleigh Hills, Forest Grove, Cornelius, Banks, North Plains, Tualatin, Sherwood and Milwaukie.