---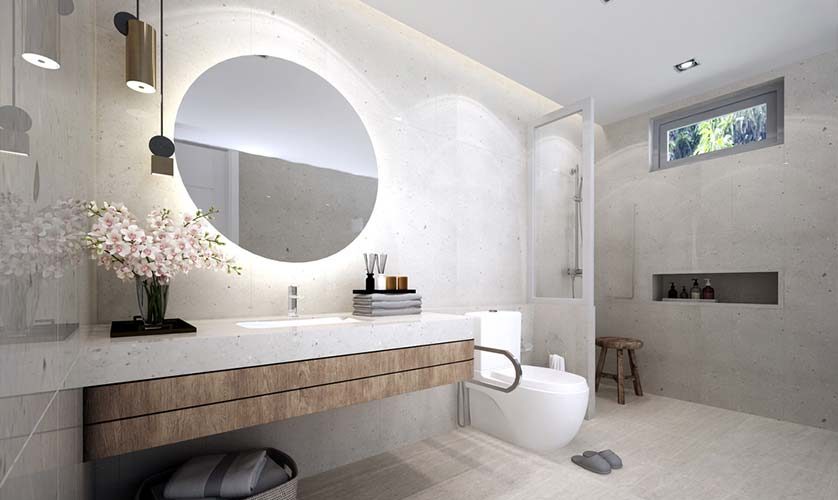 ---
The right lighting plan can make your bathroom feel like a completely different space without any other changes. In today's post, bathroom contractor DreamMaker Bath & Kitchen of Beaverton shows you the basics of bathroom lighting, and how they work together to create a well-lit space.
The Layers of Bathroom Lighting
Good bathroom lighting is a combination of fixtures from three main categories:
Ambient lighting is the main source of illumination in the bathroom. It sets the overall brightness and helps with navigation. Since it works the same way as natural light, ambient lighting can work with or supplement the light coming through the windows and skylights. The best fixtures for ambient lighting are recessed lights, chandeliers or flush-mounted ceiling fixtures.
Task lighting provides illumination for performing tasks like applying makeup and shaving. It should provide ample lighting without being too harsh, and can be turned off and on without affecting ambient lighting. Common examples of task lighting include the vanity lights above the mirror and recessed lights in the shower area.
Accent lighting is primarily used for highlighting special features in the bathroom like an art piece or an accent wall. Fixtures typically used for accent lighting are wall sconces, LED strips lights around a mirror and under-cabinet lighting.
Tips on Designing the Perfect Bathroom Lighting
A great bathroom lighting plan takes some planning. Details such as placement, wiring and fixtures, as well as the type of light bulbs to be purchased, must all be planned out to ensure beautiful results. As the trusted bathroom remodeler in the area, here are a couple of our expert tips to help you achieve perfect bathroom lighting:
Avoid shadows and glare. Make sure ambient lighting fixtures are properly spaced, especially if you have a large bathroom. Placing them too far apart can result in dark spots. Placing them too close together can create glare and make the lighting look harsh. Position vanity lighting fixtures at eye level on either side of the mirror to avoid casting shadows on your face.
Use dimmer switches for flexibility. Dimmers can let you adjust the brightness of your bathroom lighting, which can let you set moods, like when you want to have a spa-like experience while bathing. When buying LED bulbs, make sure you're buying ones that work with dimmers — some will just turn off when the dimmer voltage is dropped.
Let's Start a Conversation!
DreamMaker Bath & Kitchen of Beaverton is the go-to "bathroom contractor near me" offering a wide range of professional remodeling services, including bathroom and shower remodeling. Get started with a no-obligation consultation by calling us at (503) 214-2167 or by contacting us online. We serve Portland, Beaverton, Hillsboro, Lake Oswego and Tigard. We also serve Aloha, Raleigh Hills, Forest Grove, Cornelius, Banks, North Plains, Tualatin, Sherwood and Milwaukie.