---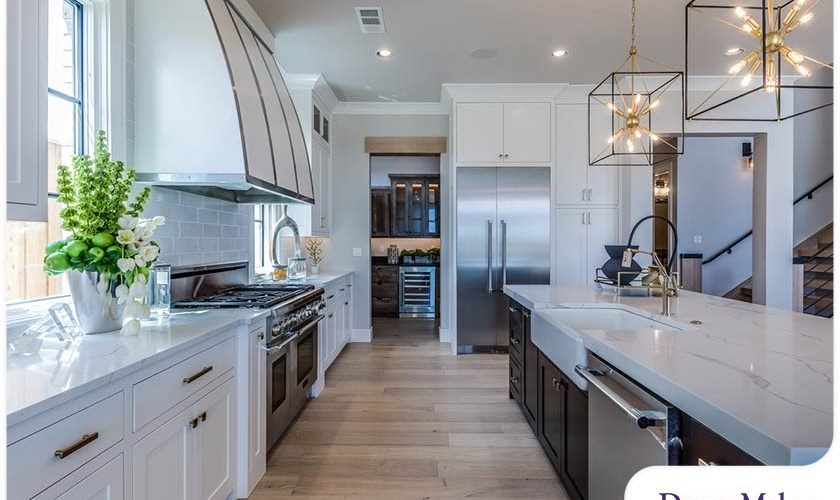 ---
Contemporary kitchens typically have a simple design consisting of clean lines and geometric shapes. Even the cabinets, molding and embellishments are modest and uncomplicated. With regards to materials, slate, granite and wood will likely be recommended by your home renovator. These natural materials add warmth to the space, making a contemporary kitchen seem more inviting and homey.
To give you ideas on how to capture the essence of a contemporary kitchen, below are elements that you should pay attention to.
Contemporary Features
Clean, Minimalist Design
Contemporary kitchens have simple, no-fuss designs. Oftentimes, the best way to demonstrate simplicity is by using clean lines. Boxy or curved, vertical or horizontal – if you incorporate these clean lines in your design, it will put emphasis on form and produce a sophisticated look.
Sleek Cabinetry Choices
When designing a contemporary kitchen, your kitchen remodeler will likely suggest cabinets that are rectangular or square in shape. Furthermore, contemporary-style kitchen cabinets usually have their frames hidden by slab-front doors, adding to the clean, sleek lines of the design.
Contemporary kitchen cabinets typically reach up to the ceiling, which enables them to have maximum storage capacities. Deep drawers are a staple in modern kitchens, and they are handy for storing pots and pans. It's common to see some sections of upper cabinets with glass doors and other sections with open shelving.
A Light Color Palette
Contemporary kitchens typically feature neutral palettes. Although some bold colors can be a good choice for modern kitchens, monochromatic shades are often preferred. Either warm or cool tones can be used in contemporary kitchens. The former add a more transitional look, while the latter are perfect for creating a sleek design.
Waterfall Edges
Waterfall edges are often used on kitchen islands. This kind of design produces clean lines that help create a more cohesively designed space. In addition, waterfall edges on an island serve as an eye-catching focal point.
Let's Start a Conversation!
DreamMaker Bath & Kitchen of Beaverton is a locally owned and operated business that delivers excellent craftsmanship and highly personalized service. If you're looking for a trustworthy "kitchen contractor near me", you should consider working with our team to get outstanding results for your project. Call (503) 214-2167 or reach out online to start a conversation with our team.