---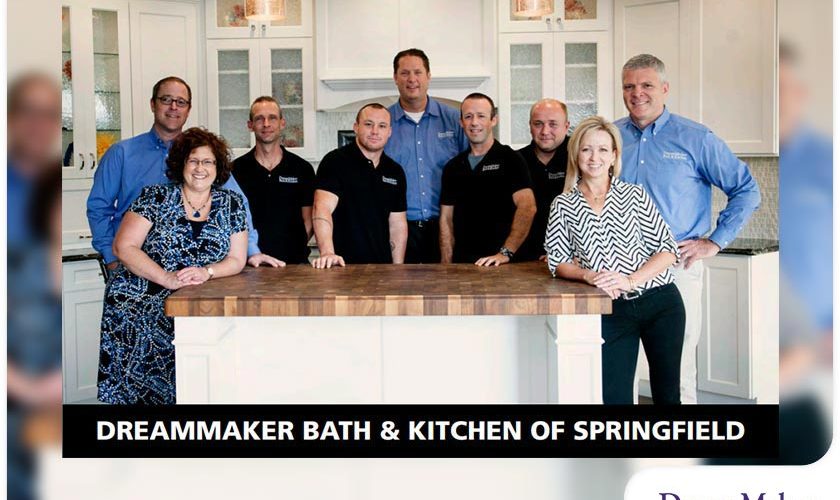 ---
Congratulations to DreamMaker Bath & Kitchen of Springfield on being named Franchise of the Year! DreamMaker Bath & Kitchen is a home remodeling company whose franchise owners and employees follow a Code of Values™ that promotes honesty and integrity. We are each committed to designing and remodeling with the customer in mind. Learn more about this year's award-winning franchise.
A New Beginning
Since 2006, Curt and Deb Trampe , owners of the Dreammaker Bath & Kitchen of Springfield location, have been members of the DreamMaker family. In 1998, they started a remodeling business that did "all things for all people," from interior remodeling to roofing, basements, drywall repair and other projects. However, Curt felt the business was unfocused and in need of fine-tuning.
"DreamMaker was attractive because they focused exclusively on kitchen and bathroom remodeling, which was appealing after my previous unspecialized business experience, " says Curt. "The fact that there were systems already set up to follow, and a business process that was repeatable, was also very valuable to me."
The Trampes say that they really appreciate DreamMaker's Code of Values. "DreamMaker is a business of integrity and being faith-based was important to me, as well as the way that they take care of their clients and their employees," Curt says.
An Established Support System
"Being a part of a faith-based franchise allows me to have a great level of connection with other franchise owners," explains Curt. "It's certainly not a requirement, but for most people who do get involved with DreamMaker, their faith is pretty personal and valuable to them, which provides yet another connecting point."
DreamMaker Team Awards
Other franchises and employees also received recent recognition:
Sales Leader of the Year: Lee Willwerth, DreamMaker of Ann Arbor
Rookie of the Year: DreamMaker of Reno
Lead Carpenter of the Year: Sean Dugan, DreamMaker of Ann Arbor
Salesperson of the Year: David Anderson, DreamMaker of East Georgia
Team Specialist of the Year: David Rosas, DreamMaker of Springfield
Production Facilitator of the Year: Kevin Hansen, DreamMaker of Ogden
Enhancing Lives. Improving Homes.: DreamMaker of Beaverton
Looking for a "contractor near me?" DreamMaker Bath & Kitchen of Beaverton offers a wide range of professional bathroom remodeling services. To get started on your project, call us at (503) 214-2167 or get in touch with us via our online form. We are proud to serve homeowners in Portland, Beaverton, Hillsboro, Lake Oswego, Tigard and many surrounding communities.