---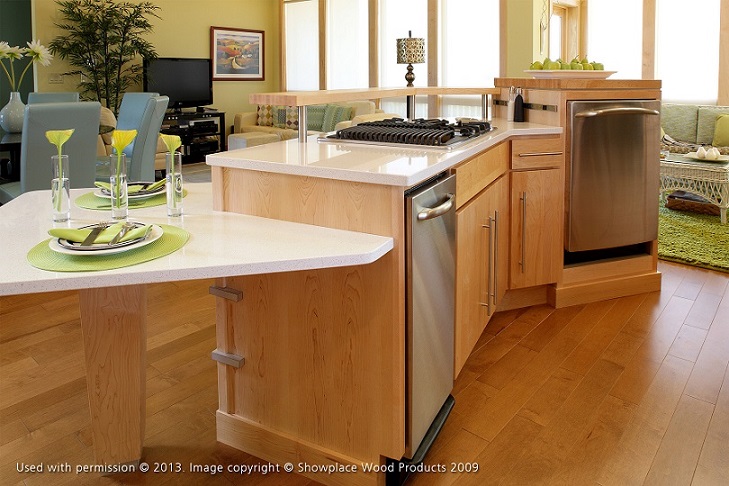 ---
The kitchen work triangle is one of the most basic design concepts when it comes to remodeling a kitchen. This decades-old term refers to placing your sink, stove and refrigerator an equal distance apart. The center points in front of these elements should form a triangle and no obstacles should block the triangle space.
DreamMaker Bath & Kitchen of Aiken is an expert in home remodeling, kitchen upgrades and more. Today we'll discuss the kitchen work triangle and whether it is obsolete.
The Kitchen Work Triangle
The kitchen triangle was developed early in the 20th century. According to this theory, each leg of the triangle should be between four and nine feet each and the total of all three legs should be no less than 13 feet and no more than 26 feet. This is to avoid bottlenecks and to ensure free movement within the work triangle's area. With this kind of arrangement, the cook does not need to move across the room as she preps the food, cooks the food and cleans pots and dishes.
The kitchen triangle was developed during a time when kitchens were either located in separate rooms or semi-closed off from the rest of the house. Most of the meals were prepared by a single cook, so the kitchen triangle is designed to optimize a single cook's performance. If this is the arrangement in your home, then a kitchen work triangle can still be a logical and effective layout for your upcoming remodel.
Zones as an Alternative
A lot has changed since the 20th century, however, and many kitchens are no longer the exclusive territory of a single cook. In these kitchens, guests often sit to chat with the cook or there are multiple people cooking at the same time. Many kitchens are also open and no longer closed off from the rest of the house.
Zones are an alternative to the kitchen work triangle. Individual stations in the kitchen fulfill different activities and these stations are self-contained. This is more flexible than the work triangle and allows multiple cooks to work easily at once.
DreamMaker Bath & Kitchen of Aiken is one of the top kitchen remodelers in our local area. You can rely on us to optimize your kitchen's layout and make it more functional. Our distinctive, full-service remodeling approach focuses on assisting our clients through every step of the remodeling process. Call us at (803) 335-1758 to learn more about our services and products or to request a consultation.