---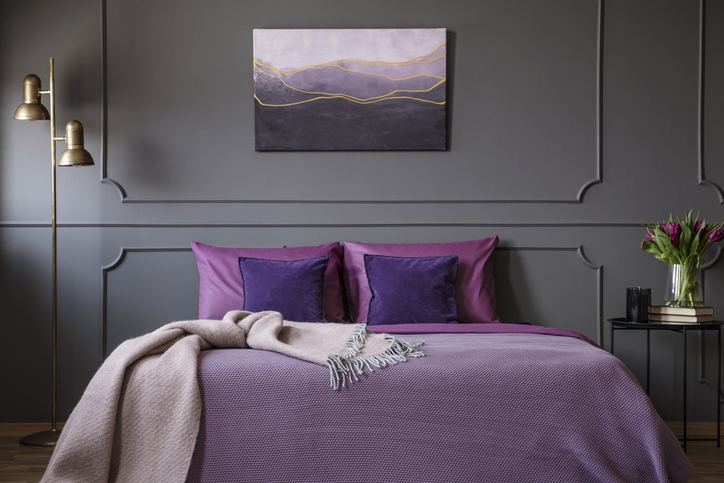 ---
If you're like most people who enjoy hanging out in their bedroom even during their waking hours (or if you just like sleeping in), then you know that the color of your bedroom walls plays a role in helping you wake up cheerful and well-rested. Here, our home remodeling experts explore four interior designer-approved colors to use in the bedroom.
Lush Lavender
Lavender oil is known to promote restful sleep, but did you know that the color lavender can also help you catch those zzz's? Lavender on walls is calming and muted enough but isn't drab. Pro tip: you can use pastel lavender if you want a slightly brighter-looking finish.
Calming Blue
Blue as a bedroom color is not only interior designer-approved, it's also backed by science! The eyes have special receptors that are most reactive to blue, the color mainly associated with tranquility. Since these receptors are also responsible for relaying information to the part of the brain responsible for the body's circadian rhythm, blue can help you snooze quickly.
Clean White
A home renovation staple, white is one of the go-to colors for interior designers and homeowners alike. You can't go wrong with a pristine white bedroom, but experiment with different textures and color accents so your bedroom won't end up looking like a hospital ward.
Cheery Yellow
Paint your bedroom yellow and immediately feel invigorated upon waking up. It's no secret that the color yellow is associated with positive vibes, and you can capitalize on this fact for a more vibrant bedroom.
Your Dream Bedroom, Realized
DreamMaker Bath & Kitchen of Aiken specializes in turning dream homes into reality. Our team of home improvement professionals can help you achieve your design vision. Call us today at (803) 335-1758 to get started on your home remodeling project!