---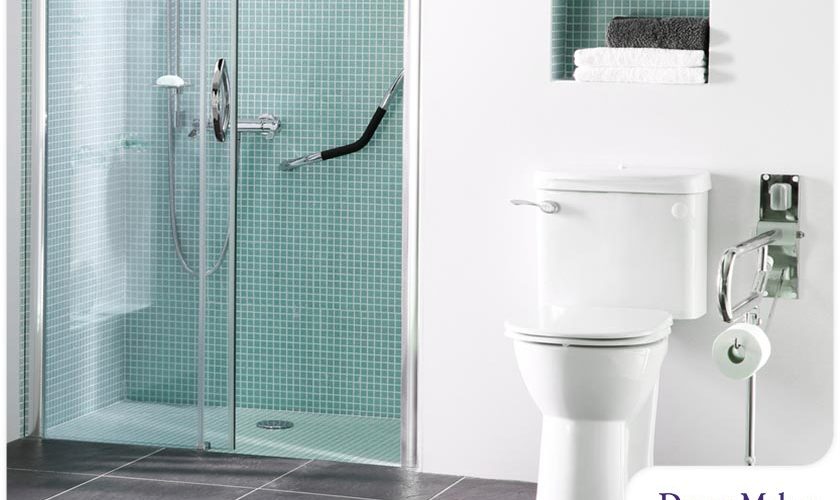 ---
Thinking about the needs of users with mobility issues is one of the most important steps when designing a universally accessible bathroom. If this is a bathroom renovation project you're planning, one key focus is the toilet. So all users are able to use it with as much ease and comfort as possible, the toilet should offer the following features.
Key Features
Extra Height
An ADA-compliant toilet is 17 to 19 inches from floor to seat. This makes it easy for individuals using walkers and wheelchairs to lower, stand or transfer from their mobility device to the toilet. If toilet replacement is not an option, a thicker seat can be installed to an existing toilet for added height. In some cases, a wall-mounted toilet may be recommended to ensure toe and foot clearance.
Grab Bars
Grab bars are a must-have safety feature near toilets. They provide stability and reduce the likelihood of accidents. Experts recommend installing at least one grab bar 33 to 36 inches above the floor on the wall closest to the toilet. Alternatively, the toilet can be positioned between two support bars.
Toilet Paper Dispenser
A toilet paper dispenser should be mounted at least 36 inches from the back wall and at least 19 inches from the floor to allow the user to reach it conveniently. It should not obstruct grab bars or require the user to turn or bend too far forward from a seated position.
Bidet
Another feature many mobility remodeling experts recommend is a bidet. It promotes comfort and independence. Built-in bidets, bidet attachments and spray or handheld bidets can be great options for users with upper body mobility issues.
Enjoy a Safer & More Accessible Home

Make DreamMaker Bath & Kitchen of Aiken your trusted contractor for all your home remodeling needs. An accessible toilet is just one of the many updates we can offer through our Independence by Design™ service. Our skilled and experienced designers will listen attentively to your remodeling needs, allowing us to transform your home to fit your lifestyle.
Whether you're considering a bathroom remodel or even a whole-home renovation, expect our team to improve the beauty, functionality and safety of your space. We invite you to schedule a visit to our design center so we can discuss your project in more detail. Call (803) 266-1913 or fill out our contact form to start the conversation! We serve homeowners in Aiken as well as North Augusta, Graniteville and New Ellenton.