---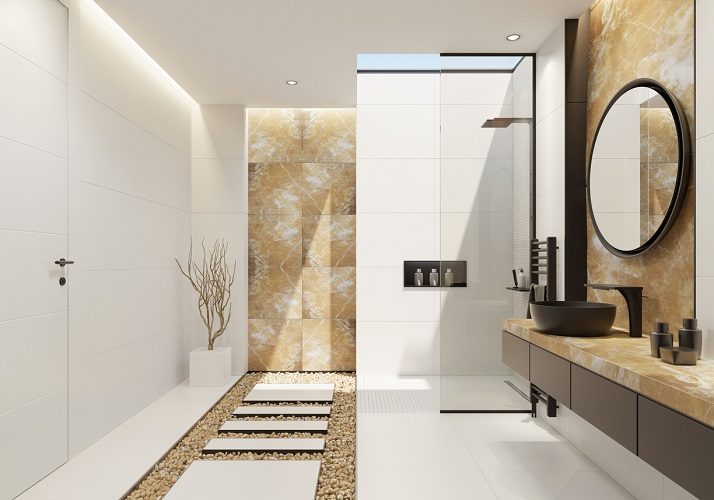 ---
When it comes to bathroom floors, ceramic, vinyl and porcelain come to mind first. Any bathroom remodeler worth his salt will tell you these are the options that are most practical, making them highly popular among homeowners the world over. There are other options, however, and we break down your choices here.
Ceramic & Porcelain
Ceramic and porcelain tile offer the best in bathroom floor tile. They are durable and easy to maintain. Ceramics, while not as easy to install as vinyl, are much more resistant to wear and scratches. Porcelain tiles are harder by comparison and are usually colored all the way through, making chips less noticeable.
Vinyl
Vinyl is hugely popular as a bathroom flooring material because it is both practical and affordable. A self-adhering material that can be cut with a utility knife, vinyl tiles today boast a much-improved aesthetic appeal and ease of installation.
Glass
Glass tile, when used to cover flooring, creates the illusion of depth. When tinted, glass tiles create a lovely stained-glass effect. With proper installation, this type of tile holds up well, but it's important to ensure you install textured glass to prevent slips. A custom glass tile shower floor creates a pretty feature for your bathroom.
Stone
Once confined to the foyer, stone tile has made it into the bathroom as well. Made from limestone, marble, granite and slate, these tiles not only come in a wide range of colors, but in lots of different textures as well — including cleft, tumbled, sandblasted, etched and flamed variations. A high-maintenance product that requires regular cleaning and sealing, stone's price point is typically higher than those of ceramic or porcelain tiles.
DreamMaker Bath & Kitchen of Tyler offers the leading bathroom remodeling services in our local area. We are dedicated to superior craftsmanship and ethical excellence, so you can be secure in the knowledge that we will complete your project in the best and most efficient way possible. Call us at (903) 253-0165 to learn more about our services and products, or to request a consultation.