---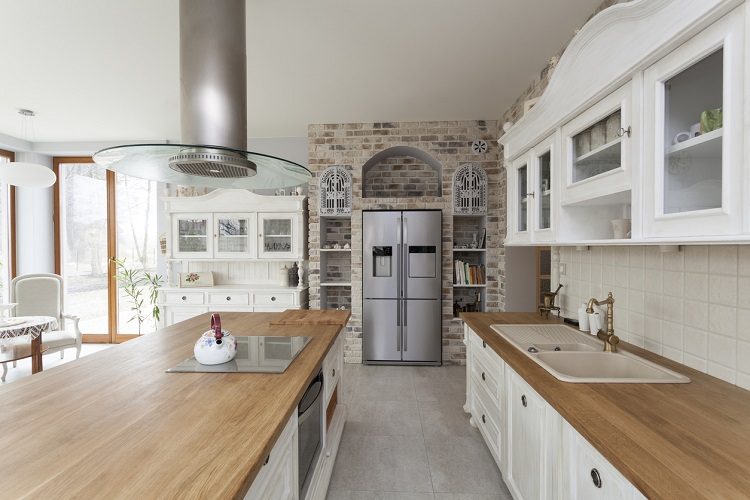 ---
Tuscany is a region that's legendary for its food and wine culture as well as its distinctive architecture.  Kitchen remodeling contractors can help you design a Tuscan-style kitchen that boasts a mix of bright and wa rmhues and a natural, rustic appeal. The idea is to evoke the beauty of sunny skies, abundant soil and rolling green hills.
Color Counts
In keeping with this, colors that are reflective of the earth, sun and sea, such as ocher, burnt orange, terracotta, warm yellows and cool Mediterranean blues are used in abundance in Tuscan-themed kitchens. This design style uses matte or distressed surfaces in favor of sleek and shiny to generate a "lived in" vibe. Cooking implements take center stage in the kitchen, which is a space that speaks of comfort and relaxed elegance.
Ample Light
One essential feature of Tuscan-style kitchen design is the use of abundant natural light, which is filtered through curtains or streams through windows sans any curtains at all. Exposed wood beams, matte stone and high-quality, natural wood cabinets painted or stained in light colors likewise lend themselves to the light, natural feel.
Backsplashes of mosaic tile and terracotta add a little shine to the overall design, breaking up an otherwise earthy, laid-back feel with some gleam. Terracotta tile or marble or ceramic tile in sandy, natural colors and finishes are the typical flooring used. Furniture is often distressed or hand-painted to tie in with the warm, relaxed, lived-in feel of a Tuscan kitchen.
Design Your Dream Kitchen With DreamMaker
Want to create a Tuscan kitchen of your own? Get DreamMaker Bath & Kitchen of Tyler to handle the job for you. Whether you've got a traditional, modern or transitional kitchen remodel in mind, we're the company that provides a menu of excellent renovation services to meet your every need. Contact us at (903) 253-0165 to schedule an appointment.