---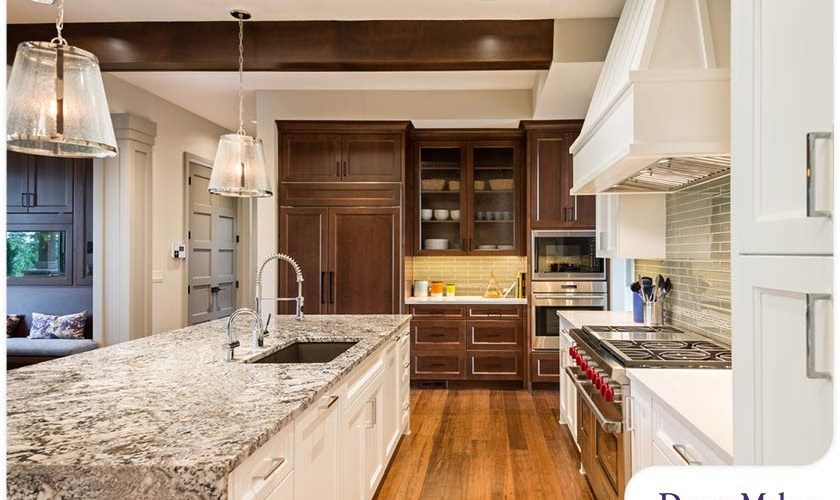 ---
The terms "modern" and "contemporary" are often used interchangeably, but there are a few distinct characteristics that set the contemporary aesthetic apart. Your home renovator will tell you that contemporary kitchens are smart, user-friendly and functional. In this post, DreamMaker Bath & Kitchen of The Woodlands, a top kitchen remodeling company, gives you a rundown on their features.
Basic Features of Contemporary Kitchens
Kitchens that feature a contemporary or modern style are usually minimalistic in nature, with geometric and linear themes. It's also a common trend to use asymmetrical balance in modern kitchen decor. Cabinets and molding are kept simple and clean.
Contemporary kitchens often use manmade materials such as steel, linoleum, plastic, chrome, molded plywood, laminate, glass, acrylic and concrete. When it comes to natural materials, the go-to choices for a modern or contemporary kitchen are granite, slate and wood. Natural materials can help stabilize the color scheme of your space, creating an inviting atmosphere in your kitchen.
Basic Style Elements of Contemporary Kitchen Design
Here are the common characteristics that define a contemporary kitchen:
Frameless cabinets that utilize large and simple hardware.
Door styles which are basic slab or horizontal lift.
Frosted door inserts or glass panels.
Geometric angles and lines.
Abundant and adjustable lighting, such as track lighting fixtures.
Usage of metal components made of stainless steel, chrome or copper.
Countertop & Backsplash Choices
An integral part of contemporary kitchen design is stone countertops. Granite and marble countertops are staple choices, but quartz and recycled glass are gaining popularity with the use of eco-friendly materials on the rise. Wood butcher block countertops are also a great option for contemporary styles to add a hint of rustic design.
Laminate countertops have improved over the years thanks to technological advancements, allowing for a wide range of colors and designs with seamless edging for crafted stone designs and more. Backsplashes are also versatile nowadays. You can opt to use glass mosaic tiles, slate, tumbled stone or ceramic to make a statement with your kitchen backsplash.
Let's Start a Conversation!
You don't need to keep Googling "kitchen contractor near me" once you start a conversation with the design team at DreamMaker Bath & Kitchen of The Woodlands! Our proven process will ensure that your remodeling experience goes as smoothly as possible. Talk to us by calling (832) 743-2571 or fill out our contact form to schedule a consultation. We serve homeowners in The Woodlands, Tomball, Spring, Conroe and many surrounding communities.