---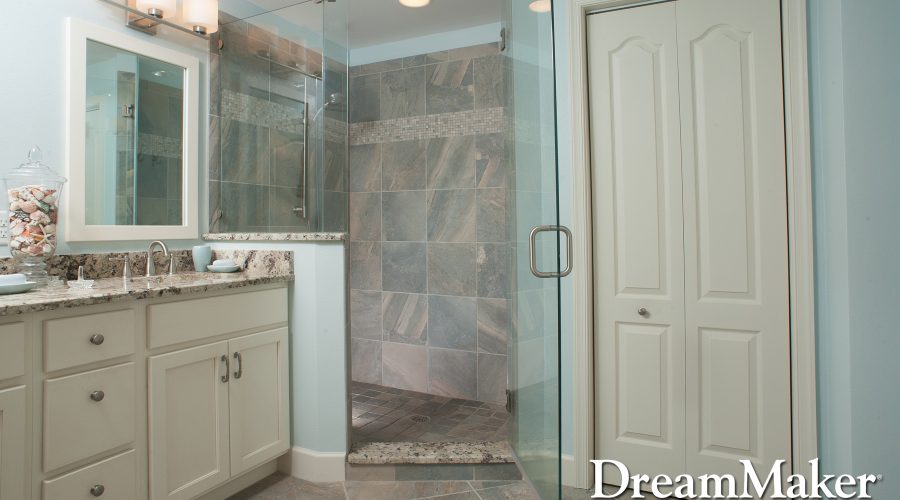 ---
Many people think that universal design is only necessary for households that include elderly and disabled occupants. On the contrary — universal design accommodates every user, regardless of age and physical capabilities! So if you're thinking of remodeling a bathroom, we suggest that you consider incorporating universal design.
Essential Elements of a Universal Bathroom
The idea behind universal design is to create a room that will be functional for able-bodied individuals (regardless of age) as well as any person who has special needs due to physical limitations. To better understand what a universal bathroom looks like, you should first learn about common elements and features. These include:
A wider doorway to provide wheelchair clearance

Grab bars in the toilet & shower area

A curbless, walk-in shower

Shower bench

Lever-style door & faucet handles

Taller toilet without a lid

Wall-mounted sinks

Slip-resistant flooring
While it's true these features are intended to accommodate those with physical limitations, having a universal bathroom ensures the safety and convenience of everyone, whether it's a child, an adult or a guest.
Worried About Aesthetics?
If you're worried that a universal bathroom might somehow look unattractive, this concern can be easily solved by working with an experienced and reliable team of remodelers. The features listed above can be combined with the latest bathroom design trends to make for a stylish yet universally accommodating bathroom. Universal design can still be beautiful design!
Let DreamMaker Bath & Kitchen Help Design a Universal Bathroom
Get in touch with DreamMaker Bath & Kitchen of Union Grove today to schedule your free consultation. We'll take this opportunity to discuss the details of your planned bathroom remodel, including the bathroom renovation cost and materials to use, among others. Call us at (262) 923-8721 and let us get to work on a stylish universal bathroom design made especially for you!