---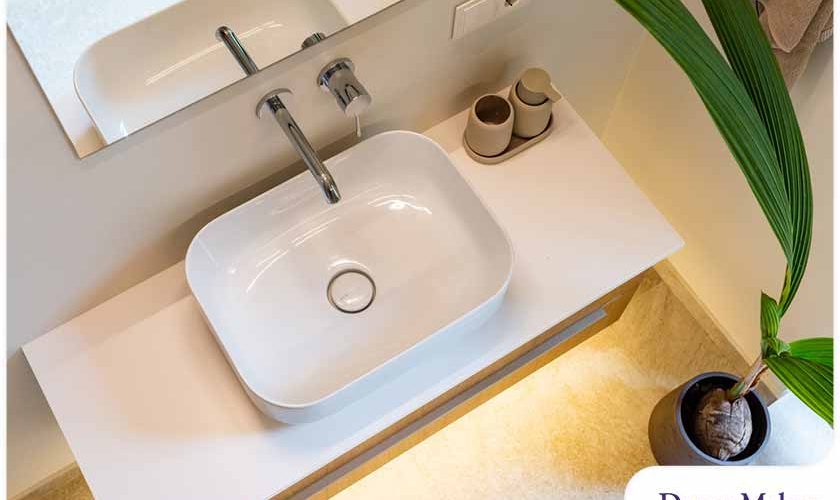 ---
Choosing the bathroom sink is a key decision in every bathroom remodel. It is, after all, one of the most-used fixtures in the bathroom. Local bathroom remodeler DreamMaker Bath & Kitchen of Southern Lakes has a guide on choosing the perfect sink for your bathroom remodel.
Types of Bathroom Sinks
Bathroom sinks come in all shapes and sizes, which can make choosing a new one a daunting task. Knowing the different sink types is a good place to start because you won't have to think about details like colors or finishes just yet. The following are some of the well-known types of bathroom sinks.
Wall-mounted sink. As the name implies, this type of sink is mounted to the bathroom wall. Since it has no footprint, it's ideal for small bathrooms. The existing plumbing may need to be concealed to create a cleaner look.
Drop-in and undermount sink. These sinks are similar in that they are installed on a hole in the countertop, with the plumbing concealed underneath. The key difference between the two is that a drop-in sink has a visible rim mounted over the countertop, while an undermount sink is attached under the countertop. The latter offers slightly more countertop space and is typically easier to clean.
Pedestal sink. A typical pedestal sink is attached to the wall and conceals the plumbing, though freestanding designs are also available. They are normally seen in traditional bathrooms, though modern pedestal sinks with a cylindrical shape are also available.
Vessel sink. A vessel sink (pictured) consists of a vessel – typically a circular bowl but angular shapes are also available – that's set on a countertop. A vessel sink works in both traditional and modern bathrooms, and a good bathroom contractor can help you find the right option.
Farmhouse sink. A farmhouse sink is a large elongated sink with a protruding front end. Because of their larger size, farmhouse sinks are ideal for shared bathrooms and are the best type of sink for bathing toddlers.
Factors to Consider When Choosing a Sink
It's not all about which style you choose. You should also consider the following factors:
Mounting. As we've discussed above, a bathroom sink can be mounted in different ways, depending on the style – on the wall, on a countertop or supported by a pedestal. Mounting can affect decisions like whether the plumbing will be kept as-is.
Material. Porcelain is the most popular material, but you can choose other options like glass and enameled cast iron.
Storage. Some bathroom sink styles allow more storage space than others, an important factor to consider if you're trying to maximize storage in your bathroom.
Let's Start a Conversation!
Still searching online for a "bathroom contractor near me"? DreamMaker Bath & Kitchen of Southern Lakes offers a wide range of professional remodeling services, including bath and shower remodeling. To get started with a no-obligation consultation, call us at (262) 500-3689 or contact us online. We serve homeowners in Kenosha, Racine, Burlington and Lake Geneva, as well as the surrounding communities.