---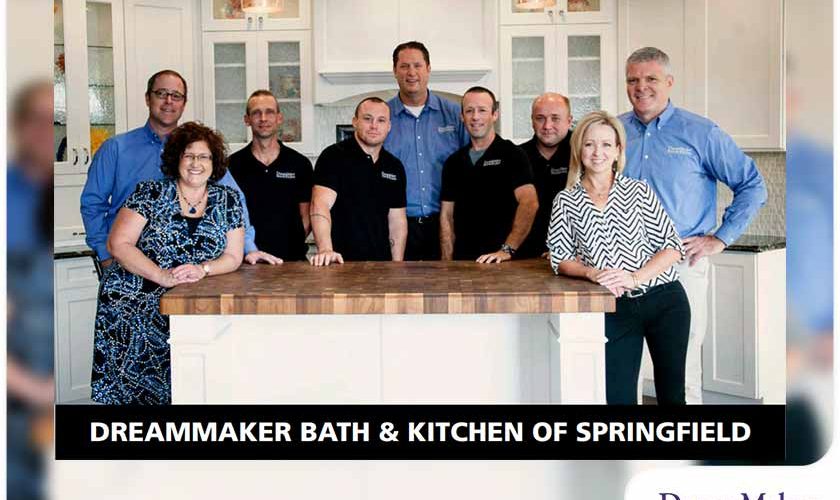 ---
We're proud of our friends at DreamMaker Bath & Kitchen of Springfield for being named the Franchise of the Year for 2021. In today's post, we take a look at this franchise and its history. You can expect the same high standard of service, from kitchen quote to completion, across all of our locations!
Humble Beginnings
Like many other DreamMaker Bath & Kitchen franchises, DreamMaker Bath & Kitchen of Springfield started as a small, local contracting business. Owners Curt and Deb Trampe had their start working handyman-type projects and, after learning the ropes and finding their focus in home remodeling, joined the DreamMaker family in 2006.
According to Curt, DreamMaker brought focus to what he described as his "unspecialized business practice." It gave him the opportunity to master the ins and outs of kitchen and bathroom remodeling, instead of trying to be a jack of all trades. As Christian business owners, Curt also cites DreamMaker's Code of Values™ as one of the things that attracted him and his wife to the franchise.
Consistent Service
One of the best things about working with a national remodeling franchise like DreamMaker Bath & Kitchen is that you can expect the same high standards across the board. Whether you're working with our team in Union Grove, WI, or with Curt and Deb in Springfield, IL, you'll be getting the kind of service that leads to customer satisfaction. On top of providing top-notch remodeling work, you can count on every DreamMaker Bath & Kitchen franchise to abide by our Code of Values. It's not just something we hang on the walls of our offices; it's something we continue to live by.
Our Safe Remodeling Process
Our safe remodeling process takes advantage of technology to conduct meetings and consultations with our clients remotely. The only time we have to come to your place in-person is during our home survey. Our representative will take measurements and check for potential issues with plumbing or electrical lines. All of these will help us come up with a more accurate initial estimate.
At the next meeting, we will review the designs we have planned for you, make changes as needed and, ultimately, finalize the design and its associated cost. A detailed contract will soon follow, as well as a pre-start conference with your project manager, who will be your dedicated point of contact for the rest of the project.
Let's Start a Conversation!
Searching online for a "remodeling contractor near me"? DreamMaker Bath & Kitchen of Southern Lakes offers a wide range of professional remodeling services, including kitchen, bath and shower remodeling. To get started with a no-obligation consultation, call us at (262) 500-3689 or contact us online! We serve homeowners in Union Grove and Southern Lakes, as well as surrounding communities including Somers, Paris, Twin Lakes, Brighton and Kansasville.