---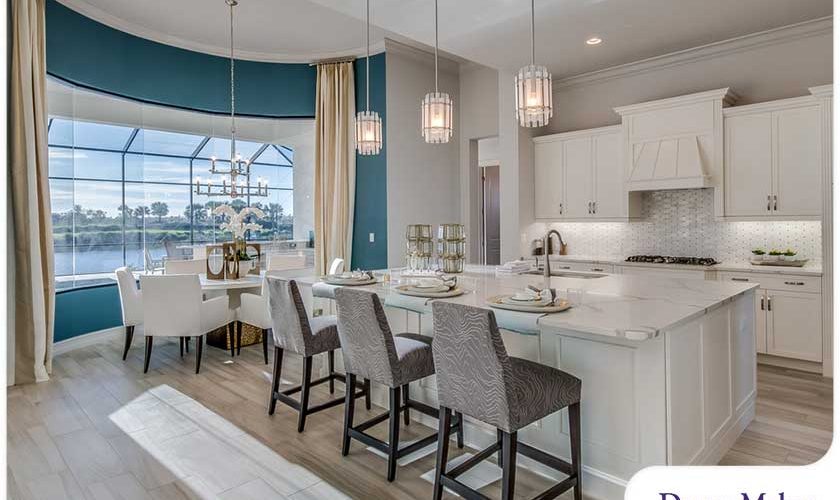 ---
Lately, there's been more of a trend towards informality, with the kitchen and dining room edging closer together. If you are planning a kitchen renovation, you may be unsure whether you should include a dining space in the kitchen. To decide, it is essential to know some basics of both styles.
Trusted kitchen remodeler DreamMaker Bath & Kitchen of Southern Lakes shares some features of the eat-in kitchen and separate dining room to make the choice easier for you.
About the Separate Dining Room
Dining rooms are typically used for larger, more formal gatherings. Depending on the age and layout of a house, a dining room may have seating for anywhere from six people to a dozen or more. If you have a large family or frequently have guests over for dinner, a separate dining room may be a necessity.
Dining rooms are more traditional and can feel more elegant.
The dining room is naturally segregated from the kitchen and the rest of the home. This creates a private space but also can make it hard to stay connected.
This is a great place to add a pop of color with paint or wallpaper without sacrificing the neutrality of the rest of your home.
You get enough space for guests to enjoy a meal.
About the Eat-in Kitchen
The eat-in kitchen provides a place for friends and family members to casually socialize and enjoy a meal, while also serving as a food preparation area.
The eat-in kitchen can be a casual, laidback place to enjoy meals together.
It can also serve as a space for doing homework and playing games, making it a fun family space.
It's ideal for those who have no interest in setting up a formal dining room.
If you're someone who craves "alone time" while cooking, an eat-in kitchen can turn your quiet kitchen into a noisy gathering place.
You do not necessarily have to make a choice between an eat-in kitchen and a dining room. If space and your budget allow, you can have both an eat-in area for your family as well as a dining room for formal gatherings with both family and friends.
Let's Start a Conversation!
Are you planning to give your kitchen a refresh? Start planning your project today with DreamMaker Bath & Kitchen of Southern Lakes! When you look up "kitchen remodeler near me", our company name will be at the top of the list. Call us at (262) 923-8721 or fill out our contact form to start a conversation with our design experts! We are proud to serve homeowners in Kenosha, Racine, Burlington, Lake Geneva, Pleasant Prairie, Union Grove, Salem, Bristol, Sturtevant, Somers, Paris, Twin Lakes, Brighton and Kansasville.