---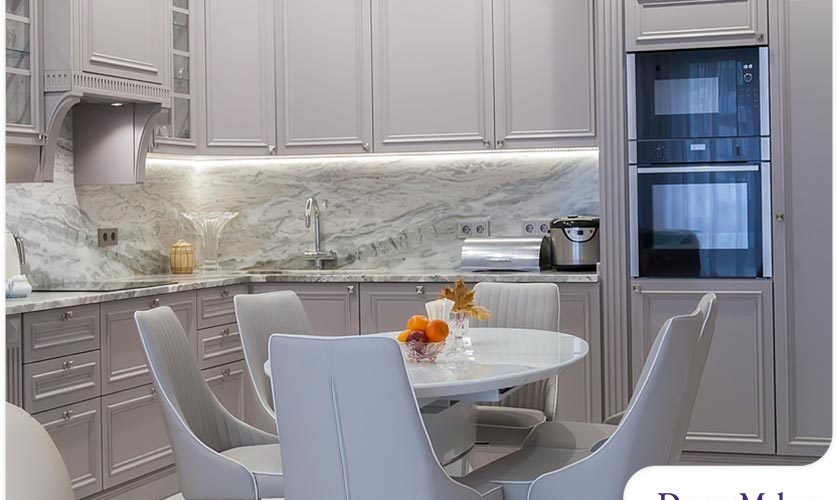 ---
When it comes to creating a timeless kitchen, there are many elements that must be taken into consideration. Kitchen designers ensure that it achieves a look that never gets tiring to the eyes. DreamMaker Bath & Kitchen of Schaumburg, a superb kitchen remodeler in your area, list the traits of a timeless kitchen in this post.
Natural Materials
A timeless kitchen introduces a classic feel by using natural stones such as marble or granite for countertops. These are highly durable and introduce a luxurious feel to any kitchen. Wood cabinets and flooring create a warm atmosphere that feels welcoming and inviting to cook or dine.
Neutral Color Palette
Most timeless kitchens use neutral colors like whites and grays that can be updated with new accents or accessories in the future. Additionally, neutral colors make it easy to let accent walls or backsplashes stand out upon entry.
High-Quality Appliances
Choose appliances that can last for years to come. Appliances that have stainless steel frames or white finishes can fit into any space and are easy to maintain. Consider investing in energy-saving appliances that reduce your power consumption and appliance strain when used.
Functional Island
A functional island is a must-have for any timeless kitchen. It can provide extra counter space and storage and serve as a central gathering area. An island always encourages conversation and togetherness while cooking or entertaining guests.
Generous Seating
Timeless kitchens have comfortable chairs or barstools with simple designs that look great to look at and let everyone sit during gatherings. Consider having built-in banquette seating to maximize space and have ample seating. If you need help, consider searching "the best contractor near me" to get the best help.
Built-in Storage
A classic kitchen always has enough storage for all kitchenware. You can install pantry cabinets with spacious drawers and shelves to keep the area neat and organized. That said, ask your contractor for help in building a kitchen space with gorgeous and functional storage space for your essentials.
If you're looking for help creating the perfect timeless kitchen for your home, look no further than DreamMaker Bath & Kitchen of Schaumburg. As an experienced kitchen contractor, our team of builders and designers has helped many clients in your area create kitchens that have withstood the test of time. Let us design your kitchen by calling us at (847) 973-5097 or filling out this contact form.